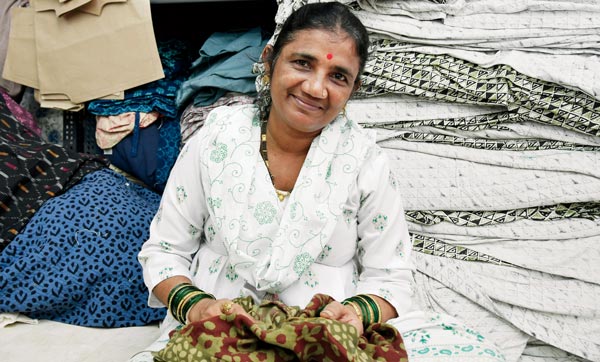 Kajal Chavan: Embroidery Artisan, Arpan
Kajal was determined to educate her son and daughter. To pay for fees and tuition, she and her husband took out loans. She then needed to earn money to repay them. To this end, she found employment wherever possible. She has belonged to several different cooperatives, some close to home and others she had to travel over an hour to reach. Hard work, long hours and traveling distances have never stopped Kajal from pursuing her employment and her goals. She takes pride in her children's accomplishments, as they both have professional degrees and good jobs. But she reflects that she herself benefitted in many ways from her experiences. Aside from sharpening skills, she learned about her own self–worth and developed a commitment to give back to society.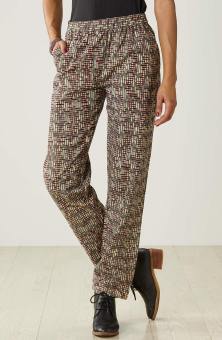 Kavya Pant - Lead/Multi
$78.00–$82.00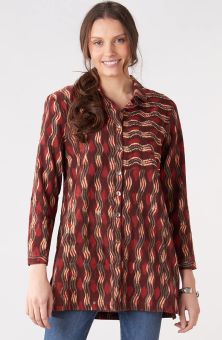 Ansika Shirt - Port/Multi
$118.00–$122.00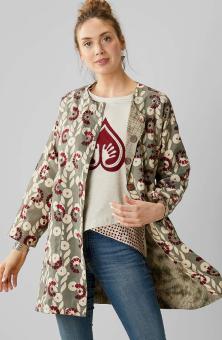 Reversible Nalanda Jacket - Lead/Multi
$158.00–$164.00
Write a review
---
Lipika Tunic
Nov 15, 2022 | By Nancy Holabird
I was so disappointed as the upper arm sleeves were too tight. Had to return
---
BurgundyTunic
Jan 31, 2023 | By Peggy Mastroianni
Too many burgundy threads that were not cut off. Otherwise, nice.
---
lovely shirt, plus size ladies beware tight sleeves
Feb 4, 2023 | By Dana Campbell
Nice design. unusually tight arms (I got 1X) compared to the model where the sleeves look loose. I'd recommend you size up.
---