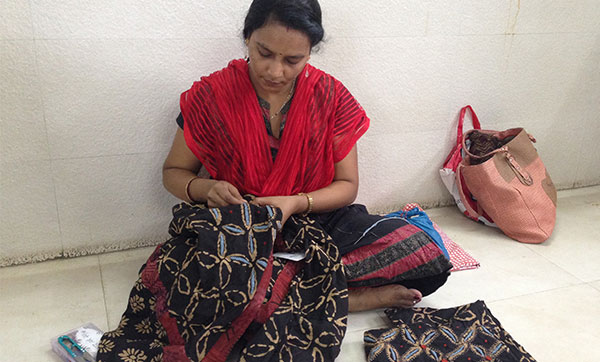 Running Stitch To Success
The charming hand embroidery on all MarketPlace garments is an important part of the empowerment program. Because it can be started with minimal training, it allows women to get a quick start on earning much-needed income. They can also fit it into their own schedule of household and childcare responsibilities by working at home without having to pay for childcare or equipment.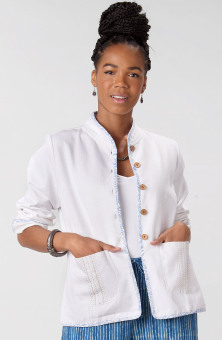 Recycled Yarn Denim Anandi Jacket - White
$94.00–$98.00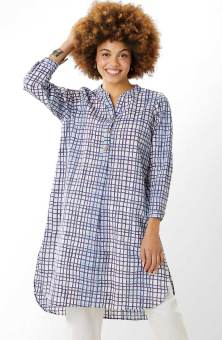 Parineet Organic Tunic - Celestial/White
$152.00–$156.00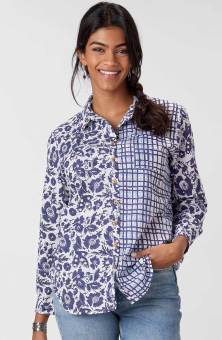 Jeevan Organic Shirt - Celestial/White
$118.00–$122.00
Write a review
---
So cute!!
Jun 8, 2023 | By Caroline Sias
I always say I'm going to write a review for the things I love and then never do, lol! This is so darling and long enough for a dress in a medium. I totally love everything I get from Marketplace India and am so impressed with the quality and the charming embroidery, that's one of the reasons I buy your clothes! When I was young my aunt taught me how to embroider and I just loved it but had forgotten all about embroidering clothes until a friend told me about your clothes. Thank you so much for adding joy to clothes again after all these years!
---
Lovely Tunic!
Jun 9, 2023 | By ParkersPlace
Although the model depicted is 5'9" and wearing a small, I'm 5'5" and ordered a medium - which fits beautifully! The hand embroidery accents on the pintucks add a bit of whimsy; the fabric pattern and color are as depicted in the photo, and the garment is extremely well made.
---
Lovely garment
Jun 14, 2023 | By NMS
This tunic is a beautiful blue color with very nice embroidery around the buttons and sleeves. There was no need for it to be ironed after washing ! I have ordered 2 garments from this website and have been very pleased with the quality of the material and workmanship.
---