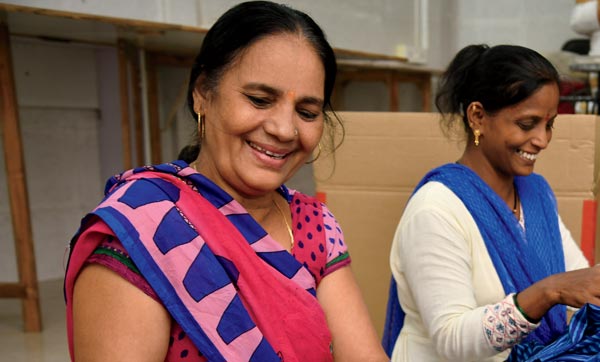 Tara Tiwari: Embroidery Artisan, Nirmaan Collective and Quality Checking Team Member
Tara's 4 older brothers went to school, but in her village, it was not the custom to educate girls. After she married a daily wage worker, she moved to Mumbai and found herself in a strange city with no education or skills. The transition was traumatic, and she lost her self–confidence. Her life changed for the better when she joined Nirmaan. There she discovered an environment that valued and supported her. She found that she has a passion for perfection and a talent for learning. Aspiring to join the Quality Checking team she worked diligently with her son to learn English so she could read labels and instructions. Her careful work makes her a highly regarded team member, and it gives her great satisfaction.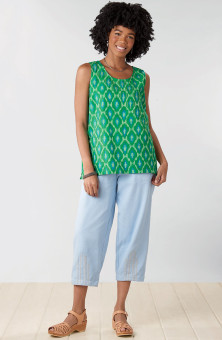 Recycled Yarn Kalpa Denim Pant - Chambray
$108.00–$112.00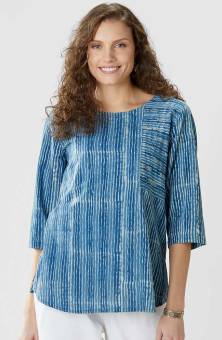 Divya Top - Indigo
$82.00–$86.00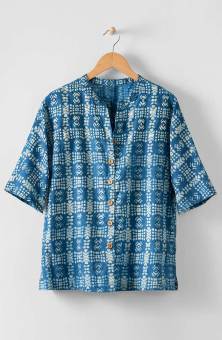 Sanjoli Top - Indigo
$88.00–$92.00
Write a review
---
Cool, comfy top
Jul 15, 2023 | By JAR1214
I paired this shirt with navy linen pants -- great outfit for summer days!
---
absolutely love it
Jul 24, 2023 | By whitney
The color is exactly as shown in the catalog - just beautiful. I love how comfortable the fit and cut is. Highly recommend
---