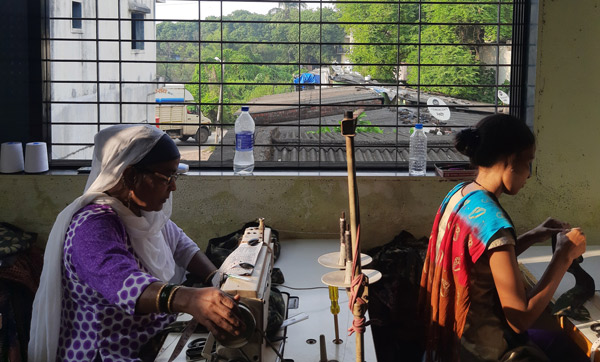 Ghar Udyog Collective Define Their Brand
Ghar Udyog is situated in Uttan, roughly 46 km from Mumbai. Located on the coast, the surrounding area is a fairly rural area and Uttan is like a large village. This group consists of 13 tailors, 14 embroidery artisans and one supervisor. It's an interesting mixture of young and older women who originate from different parts of India. While the sewing is done at Uttan, the embroidery artisans live in Bhavander, a short distance away. The geography makes it imperative that everyone can communicate clearly and frequently with their cooperative members and staff in Mumbai. They are very committed to all the social programs for personal development and social improvement. They are also good at locating useful resources in their community. They feel these aspects describe them:

1.Teamwork
2.Unity
3.Support Each Other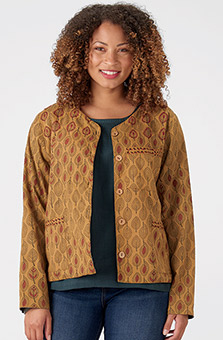 Reversible Indrani Jacket - Cypress/Brass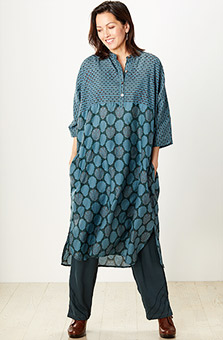 Salima Dress - Cypress
$132.00–$138.00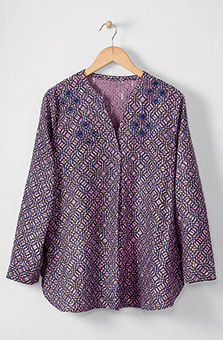 Damini Tunic - Amethyst
$88.00–$92.00
Write a review
---
mayuri wrap top
Nov 7, 2021 | By Laura
Wonderful top! So beautiful and comfortable. Can wear to dress up of down
---
Lovely soft fabric, beautiful print.
Nov 15, 2021 | By Rebecca Powell
The cotton/silk blend of this fabric is a great combination, soft and drapy, with a bit of crispness. It will feel wonderful in warmer weather. The print is lovely, very flattering for an olive complexion like mine.
---
Beautifully made!
Dec 8, 2021 | By Sandra
I purchased two items from this company and they are extremely high quality and beautifully made!
---
designer style
Aug 30, 2022 | By Kat Grossman
I'm very pleased with my new blouse. The fabric and pattern colors are soft and comfortable. It's a nice change from t-shirt or oversized styles found everywhere.
---