Independent Thinkers
Reading a newspaper was simply not part of the artisans' lives. Many of the women cannot read or write and they have little free time. Now, thanks to the cooperatives' weekly newspaper discussion groups, the women have become enthusiastic consumers of all types of news. The articles, chosen by an artisan on a rotating basis, are read aloud and then discussed, giving the women the opportunity to learn, share, be inspired, and, sometimes, laugh. Each group keeps a record of the articles for reference.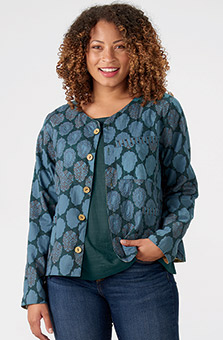 Reversible Indrani Jacket - Cypress/Brass
$112.00–$118.00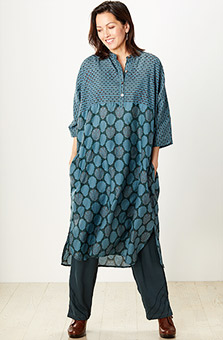 Salima Dress - Cypress
$132.00–$138.00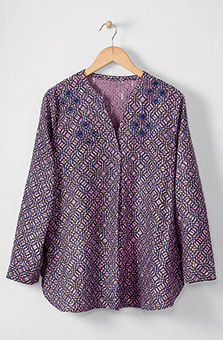 Damini Tunic - Amethyst
$88.00–$92.00
CUSTOMER REVIEWS





Lovely soft fabric, beautiful print.
Nov 15, 2021
By Rebecca Powell
The cotton/silk blend of this fabric is a great combination, soft and drapy, with a bit of crispness. It will feel wonderful in warmer weather. The print is lovely, very flattering for an olive complexion like mine.





mayuri wrap top
Nov 7, 2021
By Laura
Wonderful top! So beautiful and comfortable. Can wear to dress up of down