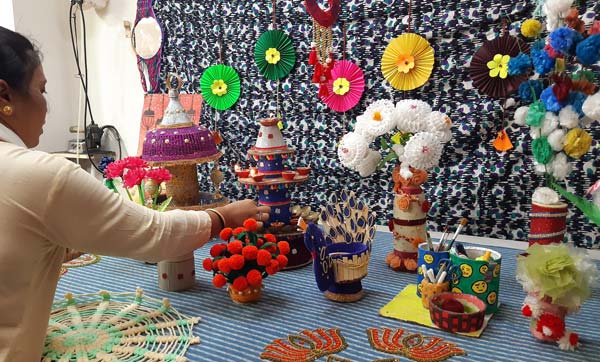 Make From Waste
The women in the Social Action Program decided to find a more eco–friendly way to celebrate festivals. Typically Indian community celebrations produce decorations that are wasteful and bad for the environment, such as figures made of plaster of Paris and toxic paints. The artisans felt that they could make change happen on a personal scale by using recycled and leftover materials. In a friendly competition the women have turned leftover bits of cloth, paper, wax – whatever they find when they clean out their homes for the holiday – into wall hangings, vases, lamps and more.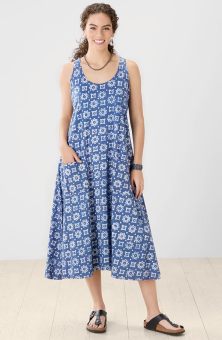 Supriya Dress - Tranquil blue
$104.00–$108.00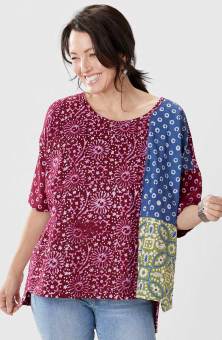 Nasima Top - Radicchio/Multi
$88.00–$92.00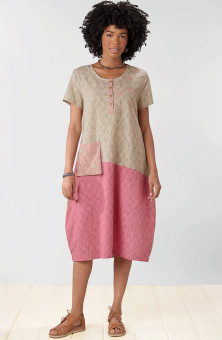 Parola Dress - Chalk/Multi
$94.00–$98.00
Write a review
---
Wonderful dress!
Apr 3, 2023 | By Therry Neilsen-Steinhardt
I adore Marketplace dresses with shaped hems such as sharkbite hems or the tulip.shaped skirt of the Parola dress. I was very happy to find the dress in a flattering color. The green of this dress is so bright and fresh. The jersey fabric is grateful to the skin and the dress sways as I move.
---
All time favorite!
May 2, 2023 | By Kathie
Love this dress. The fabric feels and looks great. Fabulous cut and flattering fit while still being so comfortable to wear. Right now this is my all time favorite dress. I wish it came in other colors
---
A favorite!
May 11, 2023 | By Katharine Biehler
Super comfortable, great design and fabric. Easy care
---
Parola dress celery
Jun 10, 2023 | By Suede
Lovely dress fabric is soft & beautiful fits great
---