Sahara Collective Define Their Brand
Sahara is one of the oldest groups and consists of 10 tailors, 18 embroidery artisans, 2 cutters and one supervisor. It is particularly significant that one of the words they used to describe themselves is "unity." This is a mixed group of Hindu and Muslim artisans, but instead of this being a source of conflict they make it a source of celebration. The bonds between the members are strong, as they celebrate one another's different holidays, go on picnics together, and assist one another. They also take an interest in their greater community, participating and initiating social programs and community development. They chose these four words to capture their identity:

1.Support Each Other
2.Quality
3.Unity
4.Acceptance For All Work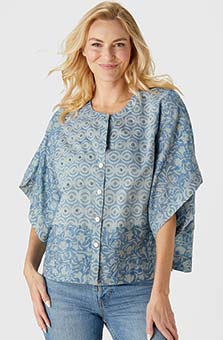 Laksha Top - Sea blue
$72.00–$76.00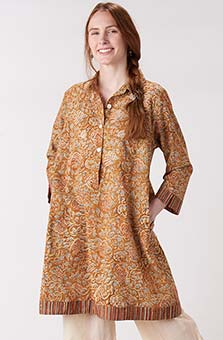 Lipika Tunic - Marigold
$108.00–$112.00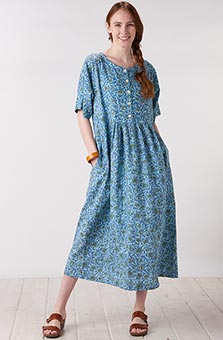 Sakshi Dress - Cottage blue
$112.00–$118.00
CUSTOMER REVIEWS





Soft!
May 16, 2022
By Mary
This cotton is like a horse's nose or a baby's tush it is so soft and comfortable to wear. A 2X had lots of extra room. I was disappointed that the neck did not have 2 buttons to keep it closed. I will add and replace buttons.





Worth the extra money in currency exchange.
Apr 25, 2022
By Miranda
Beautiful colours and amazingly soft, yet sturdy cotton. Not like some sites where the cotton is more like voile. I have purchased several pieces and all have been exactly as shown online. Colours are true to the online photos. Sizes fit very large! I normally buy large to extra-large (12-14), but I ordered mediums. Still lots of room.