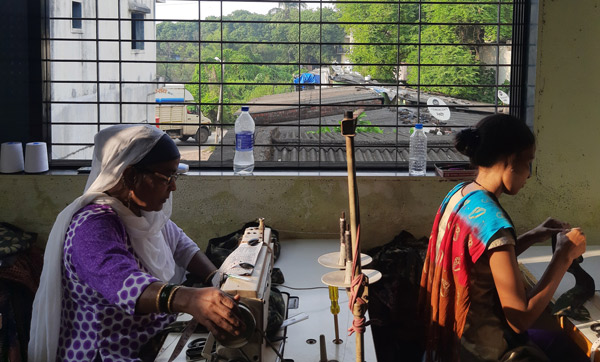 Ghar Udyog Collective Define Their Brand
Ghar Udyog is situated in Uttan, roughly 46 km from Mumbai. Located on the coast, the surrounding area is a fairly rural area and Uttan is like a large village. This group consists of 13 tailors, 14 embroidery artisans and one supervisor. It's an interesting mixture of young and older women who originate from different parts of India. While the sewing is done at Uttan, the embroidery artisans live in Bhavander, a short distance away. The geography makes it imperative that everyone can communicate clearly and frequently with their cooperative members and staff in Mumbai. They are very committed to all the social programs for personal development and social improvement. They are also good at locating useful resources in their community. They feel these aspects describe them:

1.Teamwork
2.Unity
3.Support Each Other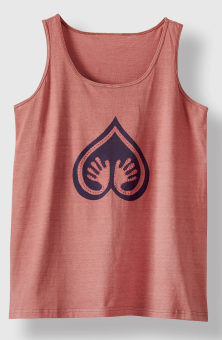 Leela Logo Tank - Ambrosia
$46.00–$49.00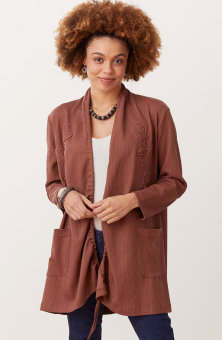 Vani Drawstring Jacket - Cinnamon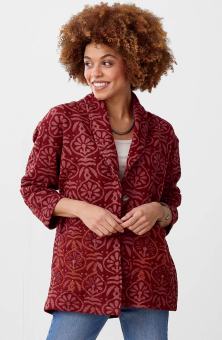 Nivetha Jacket - Sumac
$135.00
Write a review
---
Ambrosia Rachita Jacket
Dec 13, 2022 | By CAROLYN MORSE
This is a beautiful jacket - the colors, the patterns, the attention to detail including embroidery. I am not quite 5 feet tall so it is quite ample in size, almost too large for me, but I love it anyway. The sleeves are large enough to go over other layers, the buttton front closure helps keep me warm.
---
Fall and Spring in one jacket
Feb 8, 2023 | By Natalie Berkowitz
The picture in the advertisement demonstrates stripes at shoulders which is particularly beautiful. Unfortunately the jacket I received has the stripes further down. It is still beautiful, just not how I hand anticipated it. The block print is delightful and the colors fit well for spring and fall. Fabric is lush.
---