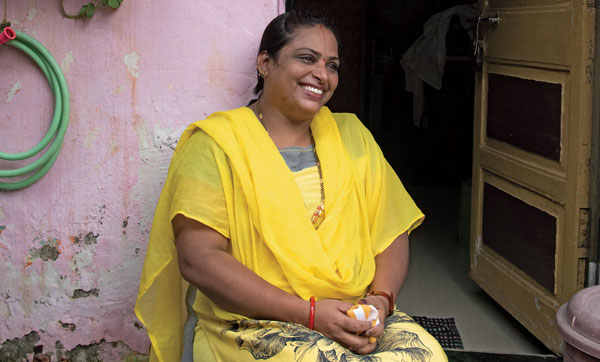 Pavithra Vishvakarma: Tailor, Nirmaan Collective
Pavithra Vishvakarma joined Nirmaan Collective 2 years ago because she had to support her family. She was glad to be able to earn the needed income. She was also surprised with the personal support she found with the group. She had loved arts and crafts when she was a young woman, but the expectations and responsibilities of marriage and family had overwhelmed her personal enthusiasms. At the collective she found kindred spirits, women actually talking about liking to do drawing or other crafts! The group also organizes competitions, exhibits and many creative activities. For a show on handmade eco–friendly bracelets, Pavitra won first prize. "Not only do I get to be creative, I am also given recognition for it."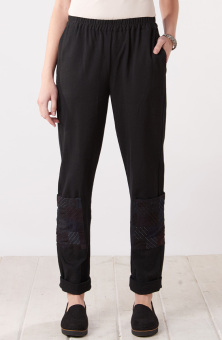 Rampur Pant - Black/Chindi
$82.00–$86.00
Write a review
---
Comfy and versatile
Aug 28, 2022 | By Karen
Comfy and can wear as a top, a dress or with leggings.
---
lovely and versatile
Sep 16, 2022 | By PATRICIA GRAHAM
take advice, this roomier than I wanted. go down a size. well constructed
---
Really nice fabric
Oct 14, 2022 | By Jeanine Hawk
I bought the tunic and pants. Great heavyweight but soft fabric. Style is very flattering.
---
Not my favorite...
Nov 16, 2022 | By Carol C Lee
A little disappointed in the common, heavy-weight denim fabric--although very happy with the hand-embroidery work, as usual.
---
Thanks
Feb 22, 2023 | By Rosemarie Davies
Thank you all for producing clothing that is more environmentally sustainable and worker friendly. Also quality materials and workmanship
---
Soooo Comfortable
Apr 12, 2023 | By Janet Hanks
I love this tunic. Love it. It's a nice weight for cooler weather, looks great with everything, and has just the right amount of detailing. I wear it with the Kavya pants and get tons of compliments.
---
Love This
May 17, 2023 | By Rebecca Hutchins
May be my favorite purchase of the year! Well made, comfortable, can be worn as dress or tunic.
---