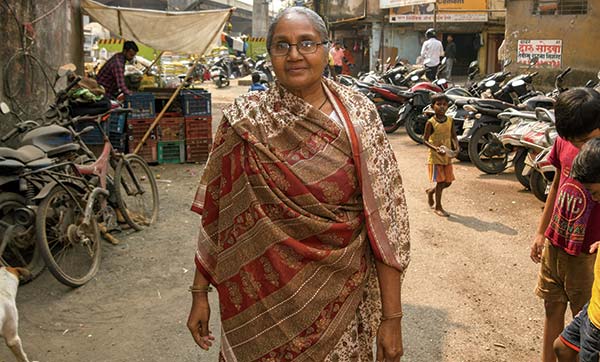 Insurance Against Health Crises
Among the less affluent in India, health insurance is only a recent phenomenon, and many still question its value. Five years ago, Marketplace began offering artisans health insurance, paying 75 percent of the premium, with the Co–operative paying 15 percent and the artisans the remaining 10 percent. After many meetings and discussions about the benefits, today the women value health insurance for both the financial and psychological security it provides.

Kunti Morya, who has worked as an embroidery artisan at Arpan Co–operative for thirty years, had never heard of health insurance until it was discussed at her Co–operative in 2016. Since she signed up, she has benefitted from the policy on three occasions. "I am grateful that MarketPlace thought in advance of us needing medical help, because I don't know how I would have managed," she says. "There are so many issues in life that make it hard to save money. Insurance allows us to not use our savings for health, so this insurance is my true savings."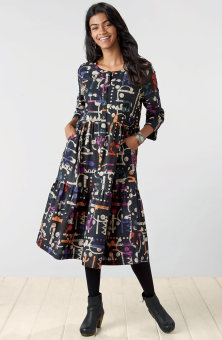 Kashvi Dress - Black/Multi
$138.00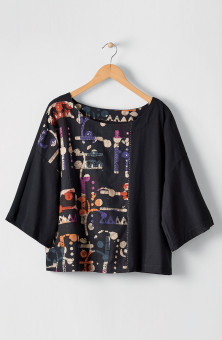 Sujaya Top - Black/Multi
$78.00
Write a review
---
Reversible jacket
Aug 27, 2023 | By Patricia
Love this jacket, good fit, nice fabric, perfect transitional weight!
---
Love my Reversible Jacket
Aug 28, 2023 | By Mary
The jacket is well made with fine stitching, matched seams, completely reversible, with lovely embroidery on one side. Both sides have pockets and the cording around the whole jacket is expertly sewn. Excellent handiwork! So pleased!
---
Perfect Travel Jacket
Oct 2, 2023 | By Linda
This comfortable cotton reversible jacket was just right for my recent travels. Keeps you warm enough on the plane and in airports. Love the black and white print side, goes with everything. Size normal for L.
---
Perfect In Every Way!
Nov 6, 2023 | By Susan Kepner
This jacket is very well made, true to size and beautiful. I found the colors to be exactly as shown online.
It goes with so many things that I have-a great wardrobe extender.
---