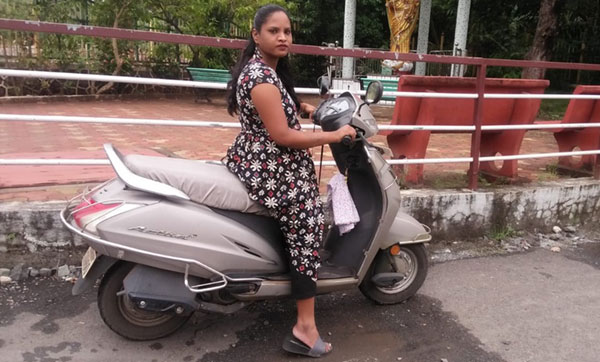 A Positive Change
Many artisans have really risen to the challenges of 2020. Komal from SMM Cooperative used to be shy, insecure and spoke very little. Although she had a motor scooter, she was uncomfortable when people asked her to use it to do errands for the group. Yet when public and private transportation were halted, she jumped right in to volunteer her services. Taking on and succeeding at this responsibility has increased her confidence, and she has gone on to join the group responsible for Quality Control.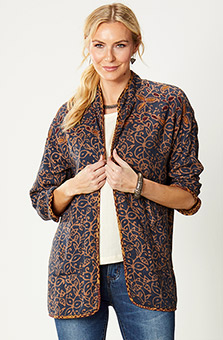 Reversible Majuli Jacket - Dark redwood/Navy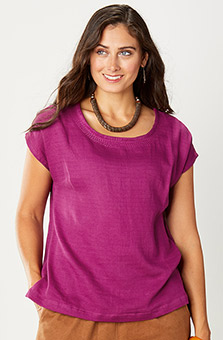 Tivisha Top - Dark orchid
$52.00–$56.00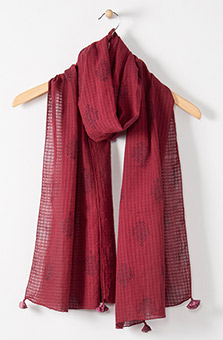 Scarf - Port
$32.00
Write a review
---
Lovely shawl
Sep 7, 2021 | By Cheryl Schnitzer
Beautiful fabric with an interesting texture. I would have liked it to be longer. The two sided aspect makes it cozy. I plan to make this garment my go to this fall.
---
Boteh
Dec 20, 2021 | By Mary
It was the Boteh design that drew me to this shawl. I love the mixture of colored panels and the little bobbles on the end of the shawl. It is very wide and perfect to fold in half, could have used a little more length.
---
Beautiful, but. . . . .
Mar 9, 2022 | By Natalie Hall
Beautiful shawl, but I have sent mine back. While it's very nice, I couldn't quite make it work for me.?? But give it a try . . . . . Good luck.

---