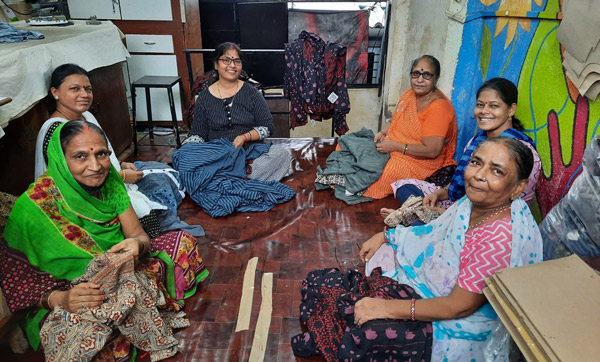 WARE Collective Define Their Brand
WARE (Women Artisans' Rehabilitation Enterprise) was established in 1995 and includes 6 tailors, 20 embroidery artisans, one cutter and two supervisors. They quickly showed their determination to succeed. While they started out in their founder's own home, they soon moved on to first renting a space and then buying their own workshop using savings and loans from the members themselves. The tight–knit group make decisions as a group, celebrate everyone's birthday and are quick to help fellow members. They chose these aspects to sum up their identity:

1.Responsibilities
2.Unity
3.Motivate Everyone For Their Skills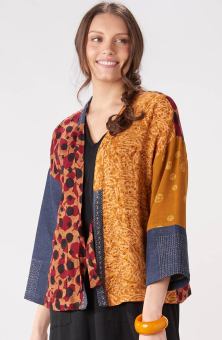 Meru Jacket - Denim/Multi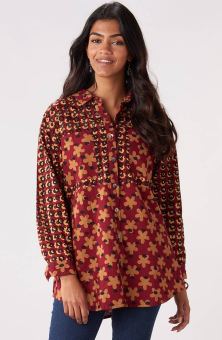 Rima Work Shirt - Pomegranate/Multi
Write a review
---
Beautiful Jacket
Oct 11, 2022 | By Deborah Updike
This jacket immediately caught my eye when I saw it in the new catalog and it did not disappoint. Colors are rich and beautiful, fabric is a nice weight, it is well constructed and the hand embroidery adds a special touch. Like all of my purchases from this company I am thrilled with it!
---
Gorgeous and versatile jacket
Oct 21, 2022 | By Jennifer
I ordered this item as a birthday gift for a good friend. Here is what she said about it:
"What a gorgeous jacket! It reverses! It has pockets inside and out! It fits! And the colors couldn't be more Autumnal. The Indian ladies do beautiful work."
---
Dramatic Fashion Statement
Nov 21, 2022 | By Sandy Ray
I love this garment! It feels wonderful, fits great, and I'm delighted that it's reversible. I have already worn it and had many compliments. This is my style and quality.
---
Such gorgeous work!
Dec 3, 2022 | By Diana N Alexander
I adore my new jacket (which was a gift from a friend)!! The beauty of the fabric and high level of craftsmanship in the making of this jacket are amazing! I will enjoy wearing this piece for many years to come!!
---
Pomegranate/Saffron Jacket
Dec 26, 2022 | By Marlene Valenti
I love the Shillong Jackets! I have several, and people always compliment them. This one is slightly different. The front is a bit shorter, and the fabric is a bit lighter. Still, the colors are beautiful and the detail is so unique. I love that it is reversible!
---