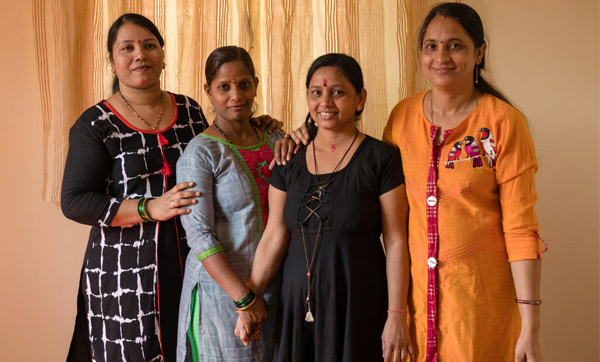 Valuing Their Independence
When the artisans met to discuss "values to live by" they decided "independence" was central to their lives now. They had to break a lot of rules and overcome many obstacles in order to have the freedom to make their own decisions. MarketPlace has sponsored numerous programs dealing with concepts such as decision-making, rights and respect which have helped the women as they find their own power. They are using their independence to make decisions which can improve the future of their families and communities.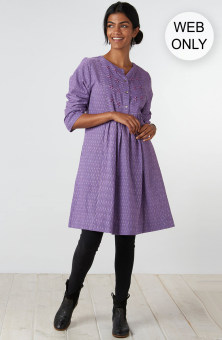 Short Vasanti Dress - Purple
$108.00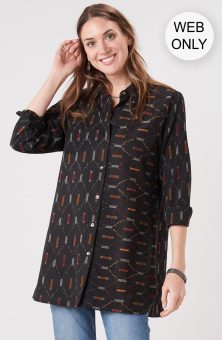 Sanaya Shirt - Black
$88.00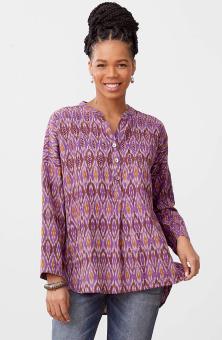 Manipur Tunic - Purple/Multi
$108.00
Write a review
---
Lovely Shirt
Aug 28, 2023 | By WonderHon
I love this shirt! The fabric is soft and beautiful and the embroidery really adds a special touch. The length is great over a slim pant; exactly what I was looking for. I really like button front shirts with collars and long cuffed sleeves like this one and the Jeevan shirts. (I have a few of those too). I washed it once as directed, and it laundered beautifully. I'm 5'8" and the 1W is a great relaxed fit. Please continue to offer this shirt in more fabric choices. Shipping was very fast; it arrived in MD 2 days after I placed the order.
---
Lovely Shirt
Sep 4, 2023 | By WonderHon
I love this shirt! I especially love collared shirts with full button fronts and long cuffed sleeves, as they can be worn alone or over a tank. I own several Javeen shirts, and the fabrics and colors have always gotten compliments. The fabric for this Sanaya shirt is beautiful, very soft and launders beautifully. Embroidery is featured here; not just a few discreet stitches, and it's lovely. The tunic length is great. I'm 5'8" and 180, so the 1W fits perfectly. This style is a winner. I'd love this shirt in more colors and patterns. Please make more!
---
Purple At It's Best!
Nov 6, 2023 | By Susan Kepner
Love this shirt! The color is even better then the online picture. The embroidery is so pretty and so well done! Size is true and really like the fabric. Another great MarketPlace item!
---
Pretty in Purple
Nov 18, 2023 | By Pomaddict
Love that this blouse buttons all the way down the front. That fact alone makes it very versitile to wear year round. It is a lovely shade of lavender with pretty embroidery. Great flattering longer length. The only thing I would change on any of MPI blouses is switching the buttons from that fragile shell material to the wooden ones that hold up much better over time. Other than that it is a perfect blouse.
---