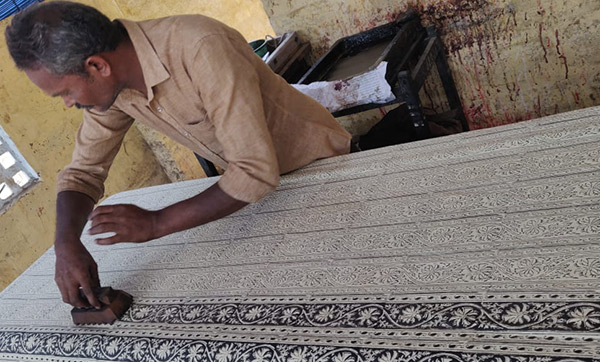 Kalamkari:
The word Kalamkari is derived from a Persian word where 'kalam' means pen and 'kari' refers to craftsmanship. Initially Kalamkari fabrics were hand painted but today wooden carved blocks are used. Kalamkari textiles were a prized trading commodity throughout Asia and Europe for hundreds of years. This traditional art has survived among dedicated artisans in southern India who follow the age–old techniques and natural dye recipes of this painstaking process. The process can involve 23 steps each requiring precision and an eye for detailing.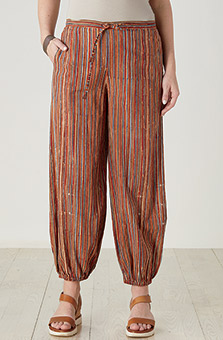 Neetu Pant - Beeswax/Multi
$68.00–$72.00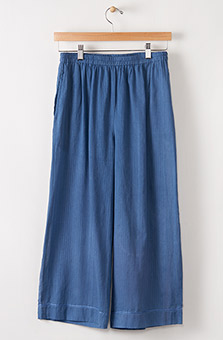 Voile Culottes - Ink blue
$46.00–$49.00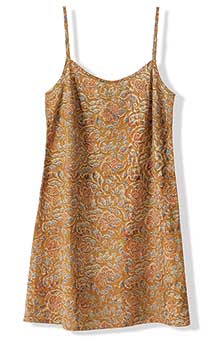 Mid-length Cami - Marigold
$52.00–$56.00
Write a review
---
Love this dress!
Apr 14, 2022 | By Lisa A Biales
It's a dress, it's a long shirt, it's wonderful and I really love the pockets!!!
---
Loved the dress!
May 23, 2022 | By Elizabeth Cosgriff
Pretty, very comfortable, lightweight, perfect for warm weather. As an older woman, I like a little bit of sleeve, and this slightly longer length. More like this please!
---
Sunny Day
Jun 6, 2022 | By Carol Olander
The colors in this garment make me smile and imagine blue skies and sunshine even if it's gray outside. The handkerchief hemline, slightly tapered bodice and v-neckline give this dress a slightly dressier look without sacrificing comfort in the least. I'm considering the purchase of a second one to have when I wear the first one out!
---
versatile and cool
Aug 22, 2022 | By Susan Niermeyer
This dress works well over tights or on its own for hot, hot days.
Accessories change it from casual sporty to businesslike, and the colors are great to highlight with scarves.
---