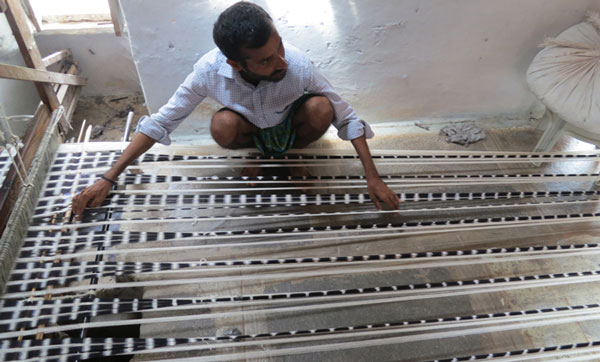 Woven Wizardry
Ikat is an extremely tricky process which produces a unique fabric. Most other fabrics are woven and then dyed, but in ikat the threads are dyed before being woven into cloth. Threads are bundled, tied with a dye–resistant material, and then dyed. The process can be repeated for more colors and complexity. For single ikat only the warp threads undergo this treatment, and the weft are left natural or dyed a solid color. In double ikat both warp and weft threads are bundled and dyed. The goal is to have a planned design come together in the woven piece. If successful, ikat produces designs with a characteristic feathery edge. This look is so prized it is often copied on machine–printed cloth, but there is no substitute for the real thing.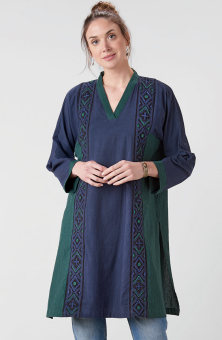 Sanika Kurta - Celestial/Patina
$108.00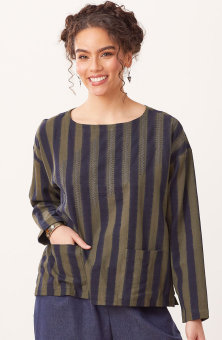 Parisa Top - Bark/Navy
$98.00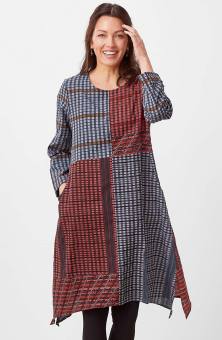 Malvika Tunic - Sumac/Multi
$128.00
Write a review
---
Stunning
Aug 28, 2023 | By Sharon
This dress is so classy. I love the position of the stripes, the pockets and the fabric. The workmanship is wonderful too. I am so happy to contribute to your cause and wish you the best. Don't forget to send me all your catalogs. YEA WOMEN!!
---
Love this
Nov 15, 2023 | By Rachel
Great oversize top. Perfect over leggings. Marketplace products hold up very well. I have dresses that are more than five years old.
---