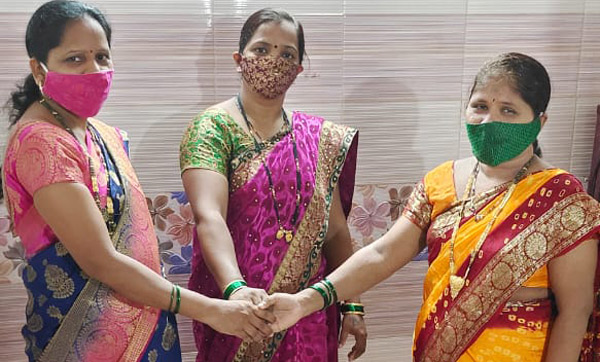 Ekta Cooperative Define Their Brand
Starting a cooperative requires great commitment and dedication from the prospective artisans. Ekta went through this process in 2017. There were bumps along the way as some women left and others joined, disrupting training, organizing and threatening unity. The spirit and determination of this group helped them succeed and now they have a productive group of 5 tailors, 2 embroidery artisans, one manager and one supervisor. Many are young mothers who feel optimistic about the future of their families and communities. This group is dedicated to the "Say no to plastic" program to improve the environment and neighborhood. They made cloth bags from leftover fabric to distribute in the community. They felt the following described them:

1.Teamwork
2.Unity
3.Fun Together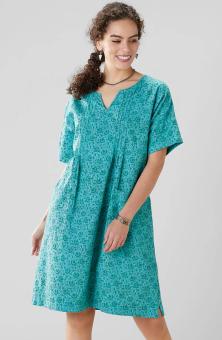 Snehal Dress - Mediterranean blue
$108.00–$112.00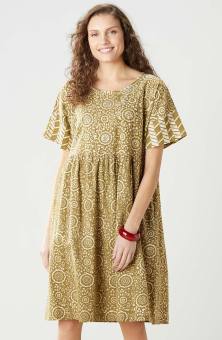 Himali Dress - Onion peel
$92.00–$96.00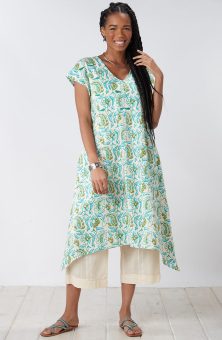 Shefali Dress - Natural/Mediterranean blue
$108.00–$112.00
Write a review
---
Lovely
Apr 1, 2021 | By Bridget
Wonderful quality. Beautiful fabric and stitching.
---
completes my Judi Dench look
Jun 9, 2021 | By Rita Qugley
I got my voile culottes just in time for our unprecedented heat wave. They fit perfectly and have such a lovely detail stitch for the hem. I am pleased to give up the too warm leggings I had been wearing. Now I feel I have achieved the casual but elegant look which Judi Dench made popular in the movie, Best Exotic Marigold Hotel.
---
Wonderful pants
Jun 30, 2021 | By Cheryl
Love, love, love these pants. They are attractive, unusual, and oh so cool.
---