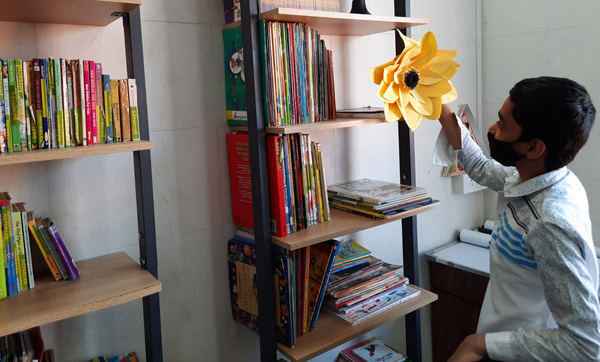 A Library At The Education For Life Program
The Education for Life program has partnered with the Share A Book India Association to establish a library at the center. The EFL children were totally involved in choosing and displaying books. They could hardly believe they could not only attend reading sessions at the center, but also take books home! Their mothers also play a part incorporating books into their home lives. Sometimes the mothers read to the children, and sometimes, if the mothers cannot read, the children read to them.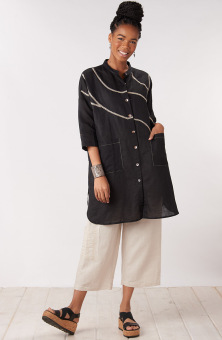 Kesari Cargo Pant - Flax
$78.00–$82.00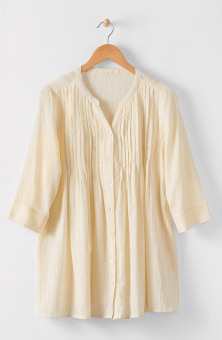 Vaishali Tunic - Natural
$78.00–$82.00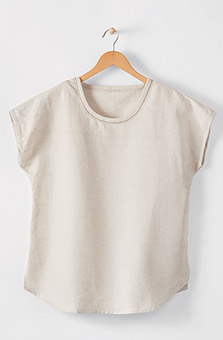 Bimala Top - Flax
$62.00–$65.00
Write a review
---
Very Pretty
May 9, 2022 | By Elona
Very pretty and well made. Paired with the Shimla Jacket.
---
super shirt
Jun 17, 2023 | By Honey
I absolutely love this shirt. It fits well and looks great. I've never had so many compliments on a shirt before. Wish it came in half a dozen colors, I'd buy them all.
---
Beautiful Clothing, Great Value
Jul 11, 2023 | By jmsaniuk
I needed a summer top for a business trip, and the Arisha top fit the bill (and me) perfectly. I have always loved the artistry of MarketPlace garments. I keep coming back not because the clothes with the hand embroidery are beautiful, but also because the garments are so well made. I never have to be disappointed because a hem starts falling, or a seam fraying, after only a few wearings. Thank you, thank you, thank you, artisans, for always making me look good!
---
Nice, versatile top
Aug 14, 2023 | By Brb
Cool linen, goes with everything. Got it on sale so price was great for such a versatile top.
---
Just needs a tweak. Fine if you sew, maybe not otherwise!
Aug 28, 2023 | By Judyk45
At first I thought about returning this top, because it wasn't flattering. Then I realized that the problem is the way the sleeves stick out. I pleated the sleeves and added a pearl-shell button, and now I like it. I may replace the button with embroidery, which suits the Marketplace India aesthetic. The remaining issue is the front hem, which pulls up at the middle panel in a way I don't like. I may turn the hem a little on the sides of the front. But it is very comfortable and the cotton blend prevents that awful characteristic of pure linen - looking like you slept in it. I've worn it several times, and it looks comfortably soft but not sloppy It remains to see how it washes. It does iron very well, but I'd prefer not to have to iron at all.
---
Delighted
Sep 4, 2023 | By Cottagegal
Prettier color than photos could display. Love the fabric, the quality of the sewing, and overall fit. A fine purchase all around!
---