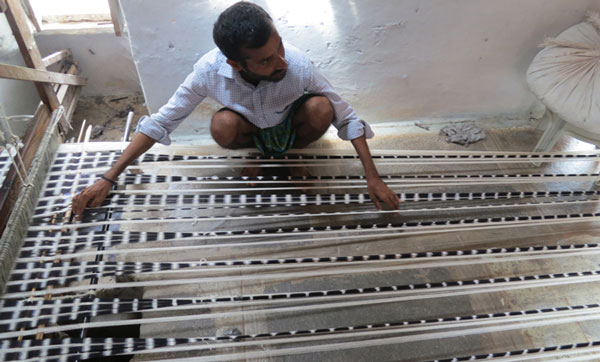 Woven Wizardry
Ikat is an extremely tricky process which produces a unique fabric. Most other fabrics are woven and then dyed, but in ikat the threads are dyed before being woven into cloth. Threads are bundled, tied with a dye–resistant material, and then dyed. The process can be repeated for more colors and complexity. For single ikat only the warp threads undergo this treatment, and the weft are left natural or dyed a solid color. In double ikat both warp and weft threads are bundled and dyed. The goal is to have a planned design come together in the woven piece. If successful, ikat produces designs with a characteristic feathery edge. This look is so prized it is often copied on machine–printed cloth, but there is no substitute for the real thing.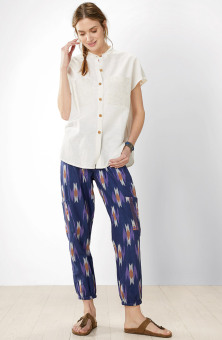 Panya Jogger - Navy/Multi
$92.00–$96.00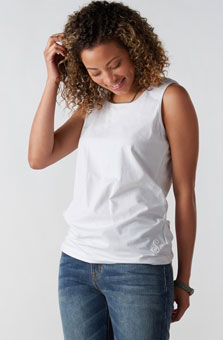 Tank - White
$36.00–$39.00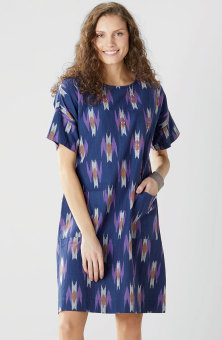 Vishala Shift Dress - Navy/Multi
$94.00–$98.00
Write a review
---
Rich woven fabric design yet light-weight
Apr 7, 2023 | By Heather Brodhead
I washed it according to "first time washing" instructions and hung to dry. No need to iron, which is a huge plus. It looks fresh and lovely. The A-Line shape fits my figure well too. Overall effect is a purple because the blue is enhanced by the pattern which creates an optical overall purple.
---