SMM Cooperative Define Their Brand
SMM is located in Nallasopara, roughly 64 kms from Mumbai, and consists of 5 tailors, 8 embroidery artisans and one supervisor. They started in 2015, but it did take a couple of years to stabilize as a group. After that, however, they quickly earned a reputation for excellent management and on–time delivery. They repaid the loan given by MarketPlace to start the cooperative in record time, and have managed their money so efficiently they have started profit sharing more quickly than other groups. They participate in the social programs and particularly enjoy Artisan Day, when they get to express themselves through skits and dances. They identified these aspects to describe their identity:

1.Trust
2.Quality
3.Responsibility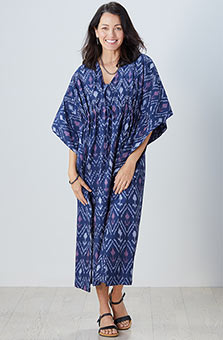 Sahara Kaftan - Navy
$118.00–$122.00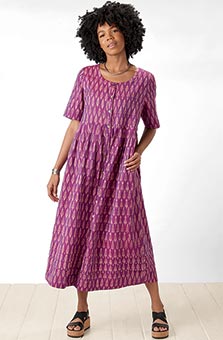 Miraya Dress - Orchid
$118.00–$124.00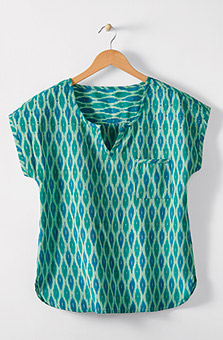 Neema Top - Emerald
$72.00–$76.00
CUSTOMER REVIEWS





Another Great Dress
May 7, 2022
By Anita Sue Fream
I'm retired, and was feeling I needed to up my casual clothing game. (It's one thing to run around in sweats on the weekend, when you're wearing suits at work; when it's 24/7, you can actually miss looking nice!) I purchased a couple of Marketplace India dresses appropriate for cool weather, but this one was the first hot weather dress I've tried. It's just lovely. The fabric is light weight, and after a preliminary wash to remove any sizing, it's also soft and comfortable. It is true to size though roomy. I enjoy being comfortable and still feeling put together. Like my previous Marketplace purchases, this one is a winner.





Perfect for Relaxing
May 1, 2022
By Bonney Sevellon
I'm wearing this cheerful kaftan right now on a relaxing Sunday morning.





Cool caftan
Mar 29, 2022
By Svea
Colors are pretty. Look forward to wearing this in summer.