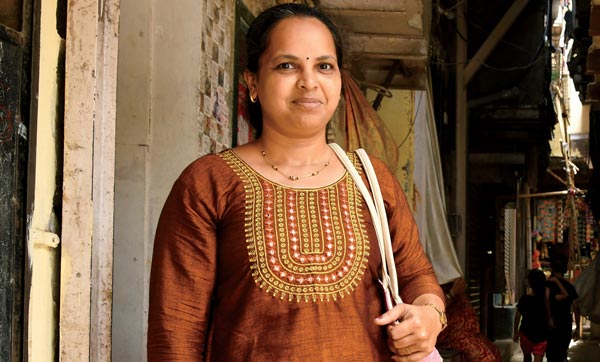 Uma Sanjeev Vartha: Supervisor and Embroidery Artisan, Ranphul Mahila Mandal
Uma had many challenges in her life. After her father, brother and husband died she was left on her own caring for 2 children, her paralyzed mother, and her widowed mother–in–law. With little education, she had trouble finding work to support everyone. When she joined Ranphul Mahila Mandal she discovered a place where women are valued for their dedication and ambition. Uma was more than willing to take on the responsibility of making a new group succeed. In fact, she showed a natural ability to lead, and trained as a supervisor. She has been able to handle disputes, finances, and priorities. To manage the travel her job requires, she saved up for a down payment on a scooter. Of course, only after carefully calculating that she could handle the payments.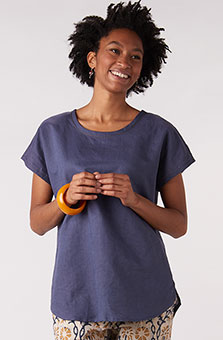 Bimala Top - Slate blue
$62.00–$65.00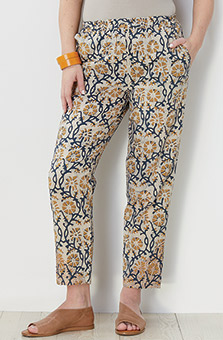 Kavya Pant - Cardamom/Multi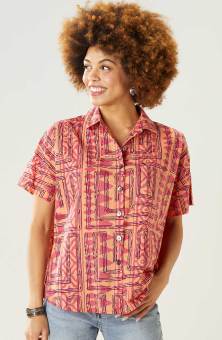 Chennai Shirt - Sunset orange
$82.00–$86.00
Write a review
---
Both gorgeous and comfy
May 18, 2022 | By Barbara Rand
I love thiis shirt... like an friend camp shirt that became your go to until it wore out. Well... now I have another campshirt in my closet that will surely become a "go to!"
---
versatile and beautiful
Jul 9, 2023 | By Catie
I love this shirt because it is so well made, and the hand embroidery is exquisite! Soft, sweet colors, and I can wear it for everyday or with a tank or sweater, to dress it up more. A favorite!
---