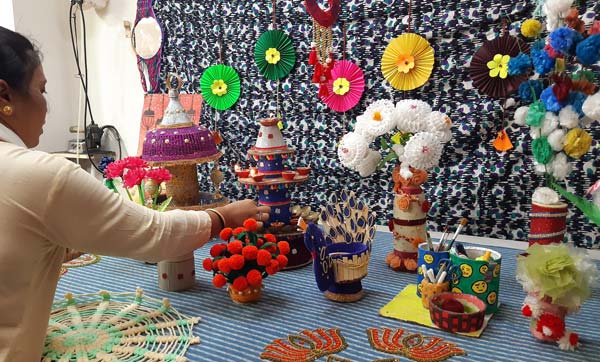 Make From Waste
The women in the Social Action Program decided to find a more eco–friendly way to celebrate festivals. Typically Indian community celebrations produce decorations that are wasteful and bad for the environment, such as figures made of plaster of Paris and toxic paints. The artisans felt that they could make change happen on a personal scale by using recycled and leftover materials. In a friendly competition the women have turned leftover bits of cloth, paper, wax – whatever they find when they clean out their homes for the holiday – into wall hangings, vases, lamps and more.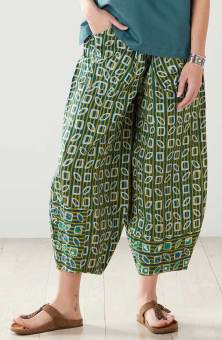 Dhulia Pant - Dusty teal/Green tea
$112.00–$116.00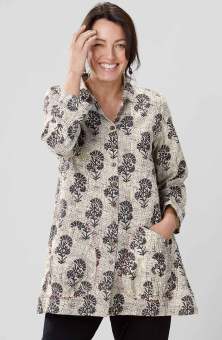 Anarya Shirt - Natural/Black
$92.00–$96.00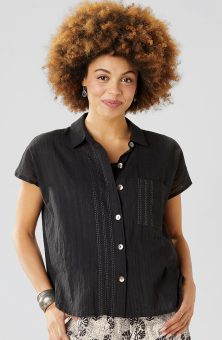 Adira Shirt - Black
$56.00–$59.00
Write a review
---
A bit disappointed
May 4, 2023 | By Barbara
The fabric is gorgeous and lightweight. Just what I wanted for Arizona. But, why, oh, why, did the designer omit the elastic in the waistband. Makes me feel like I am wearing PJs when I wear these and I was hoping to wear then out in the world.
---
HUGE
Jul 10, 2023 | By Frances
If only these pants looked like they do in the catalog, it would be great. I love the fabric. I should send these back, but I am going to try a seamstress who will reduce these to a wearable size. If you are 5'8' and weigh 350 pounds, the small will be fine for you. I think the large would your clothes, but there is just about nothing for a smaller person. Please start making something a smaller person (I am 5'3', 103 pounds.
---