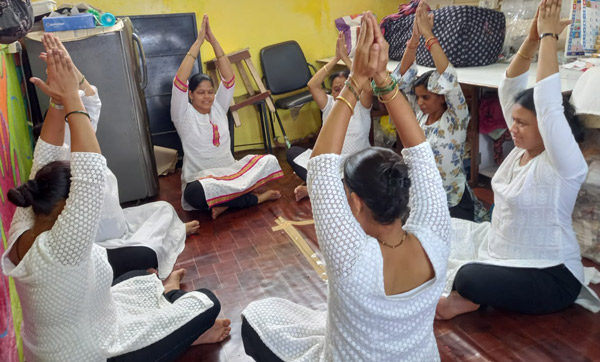 Celebrating International Yoga Day
Yoga classes came into being in 2018 when the women wanted to improve their health and reduce stress. At first there were difficulties finding space, but then COVID shut down in–person meetings and the classes went online. Many of the artisans still practice Yoga daily. They decided to celebrate International Yoga Day as a group by dressing alike: black and white yoga clothes. Many of them had never worn pants before, and the consensus was pants and a T-shirt are much more comfortable than a saree for doing yoga!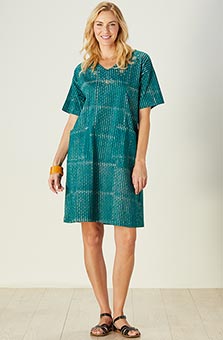 Taruna Dress - Dark emerald
$98.00–$102.00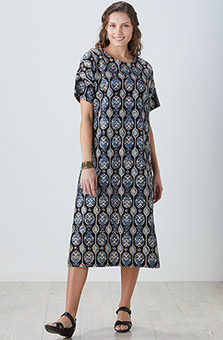 Vishala Shift Dress - Black/Multi
$98.00–$102.00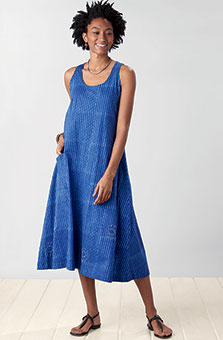 Supriya Dress - Lapis
$88.00–$92.00
Write a review
---
Great travel piece
Jul 11, 2023 | By Felicia
I needed something that I could sleep in & hang out in at large family visits. Pairs with leggings too. Great find!
---
Lovely Casual Dress
Jul 11, 2023 | By Judy
I wanted an easy throw on dress for both casual and semi casual events in FL. This dress delivers! The fabric is soft to the touch. The embroidery is beautifully sewn. I chose an XS by using the size chart. The dress fit true to the sizing chart. This was my first purchase with MarketPlace and I am truly impressed. Will purchase again from this organization.
---
Makes me smile
Sep 16, 2023 | By Phyllis
The fabric, color, style and comfort were just what I was looking for. I own many Marketplace garments and this may be my new favorite!
---