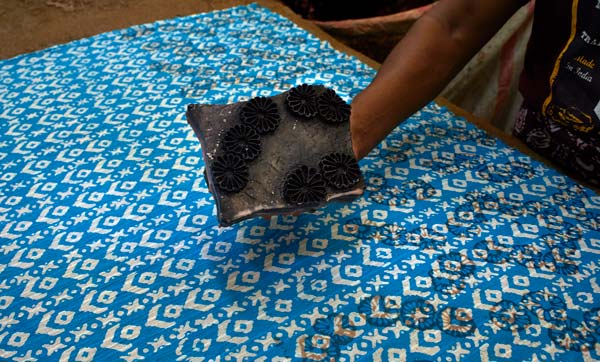 Batik Block Printing
The ancient art of Indian block printing includes distinctive regional styles. In all cases it is a labor–intensive, exacting craft. Teak wood blocks are hand carved with a variety of motifs and there is a wooden handle for the artisan to hold while stamping the cloth. The design can be dipped in dye and stamped directly. However, for Batik block printing the design is stamped with a wax resist which will block the dye when the fabric is dipped in dye. Multiple stampings and dyeing can produce complex patterns and colors. The wax is removed by melting it in very hot water, and the melted wax can be reused. Skilled artisans can combine different techniques to create uniquely beautiful fabrics.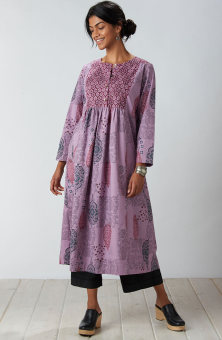 Vasanti Dress - Iris/Multi
$135.00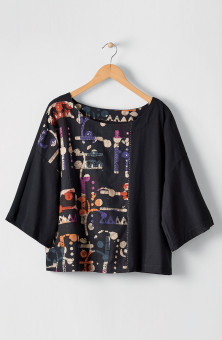 Sujaya Top - Black/Multi
$78.00
Write a review
---
Great for 3 seasons
Aug 23, 2023 | By DW
Eye-catching pattern and colors. Unique construction details (nifty flair at bottom of skirt). Fits by frame well, without being constricting.
---
wonderfully colorful
Aug 31, 2023 | By pbee
this is a wonderful dress - it makes me feel like a work of art!
---
A flattering and comfortable dress.
Sep 10, 2023 | By Liz
The fabric is pretty, the fit comfortable, and the workmanship is excellent. Lots of colors for accessories.
---
Lovely dress
Nov 14, 2023 | By Susan
I have bought many of your dresses over the years and have received many compliments for them. I think this one will be one of my favorites.
---
Even better than it looks!
Nov 16, 2023 | By Indigoraven
I loved this dress as soon as I saw it. I ordered it in an XL-my usual size. However, it was too large once I received it. Customer service was lightning fast in answering my emails and getting a L in the mail to me as soon as it was back in stock. Every interaction I had with them was top notch. The large fit perfectly and I love it more than I had hoped, but it's the customer service that will keep me shopping! In fact, I actually signed on to look at another new dress or maybe pants...
(I reread this and realize it sounds like I've been paid for my review (lol). Actually, I'm just someone who trained customer service for 30 years and gets really excited when it's done just right!)
---
Just gorgeous
Dec 2, 2023 | By Nancy
Eye catching design and colors, along with lovely contrasting embroidery.
---