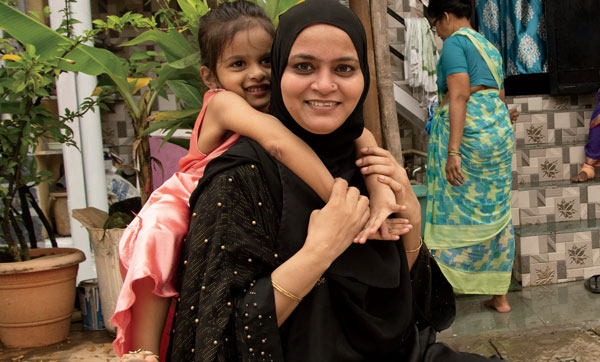 Tasleem Alauddin Shaikh: Embroidery Artisan, Ghar Udyog Collective
Tasleem Alauddin Shaikh had doubts. "When I first joined Ghar Udyog Collective I was told that I would have to attend meetings. I was not very happy about that. I just wanted to earn money." These meetings are organized with the groups to supplement the artisans' work experience and increase their self–confidence. Tasleem discovered that many of the programs were indeed helpful to her. Married at 16 with no experience of bringing up children, she had struggled on her own. As a member of the group she was able to participate in sessions with therapists, social workers, and other discussion groups have helped her with anger management, improved her relationship with her children, taught her about conflict resolution, and informed her of cost–free programs for her children. Now she says, "I think access to knowledge is the most important thing in life."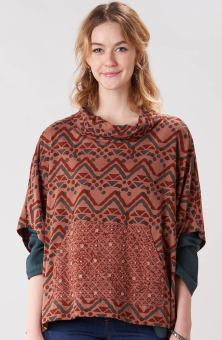 Gondia Poncho - Redwood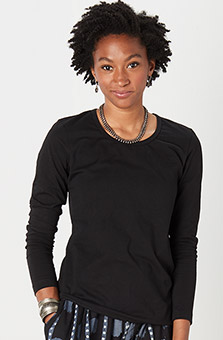 Layering Tee - Black
$49.00
Write a review
---
Creative and Fun Top
Nov 19, 2022 | By Beth
Love this poncho. It's large enough to wear over sweaters and sweatshirts and adds a creative kick to boring outfits. Please, more flexible clothes like this-easy to put on, easy to wear, and fun!
---
Perfection!
Aug 29, 2023 | By Top of the Line
The clothes I received from these women (artists, really!) are wonderful. The fabrics, the sewing, the packaging and speed of delivery are excellent. I am so glad I can buy from such an excellent shop. Unending thanks!!
---
Beautiful poncho
Nov 21, 2023 | By Janee
Loved this poncho! It was beautifully made and embroidered. Although one sized it fir and draped well and I wear a medium usually.I received compliments the first time I wore it.
---