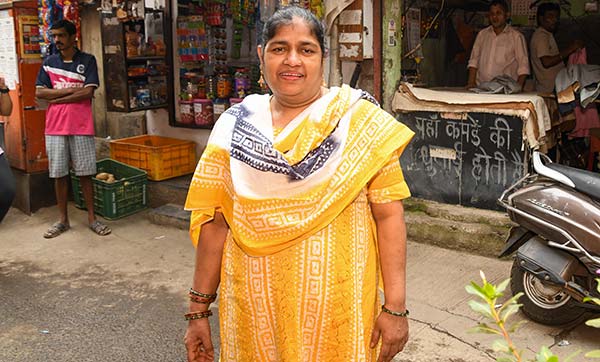 A Journey To A New Home
Shabnam has been an embroidery artisan at Aashiyana Co–operative for over 21 years. "I always try to save whatever money I can every month because I have seen that emergencies don't tell you they are coming. Also, I really want my younger sons to pursue their higher education, and this requires money."

She has always been very careful with money and spending wisely. As the children have grown, Shabnam and her husband began planning to buy a house. Currently, their house is extremely small and not in a good neighborhood. They have found a flat in the suburb Nallasopara, where homes are more affordable. Shabnam contributed Rs. 30,000 from her own earnings to buy the new home and she is looking forward to settling in someday.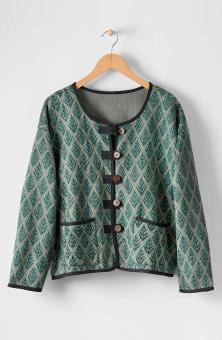 Nilgiri Jacket - Herb
$98.00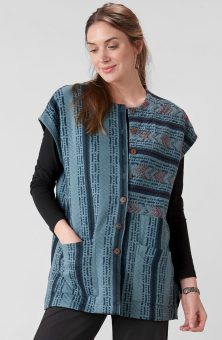 Navya Vest - Patina/Glacial
$112.00
Write a review
---
Attractive coat on
Sep 25, 2023 | By Biddy
So toasty I hate to take it off.
---
Very Nice!
Nov 2, 2023 | By MeToYou
I'm petite and a general size 2X, but this ran too big on me and the sleeves were below my hands so I'm getting a smaller size. This is a very warm quilted jacket and it has a boxy loose fit which is nice for layering and I don't like tight fitting jackets. The color is the same as the pictures. I hope the 1X fits.
---
Love this Jacket
Nov 9, 2023 | By MeToYou
I purchased a 2x but it was way too big so I got the 1x and it's great! It's a cozy barn jacket style with nice large pockets and thickly quilted. The color is a shade darker than the photos but a very nice jacket with a one button closure. Will be wearing this probably through the winter....
---
Great Jacket
Dec 5, 2023 | By BP
I love the quilting of this jacket. It is warm and so soft. The measurements were very helpful in selecting the right size (a Medium, where I would usually order a Large).
---