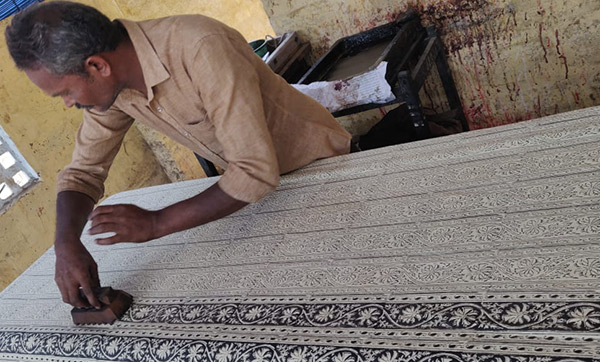 Kalamkari:
The word Kalamkari is derived from a Persian word where 'kalam' means pen and 'kari' refers to craftsmanship. Initially Kalamkari fabrics were hand painted but today wooden carved blocks are used. Kalamkari textiles were a prized trading commodity throughout Asia and Europe for hundreds of years. This traditional art has survived among dedicated artisans in southern India who follow the age–old techniques and natural dye recipes of this painstaking process. The process can involve 23 steps each requiring precision and an eye for detailing.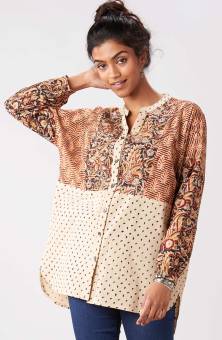 Sunaki Shirt - Natural/Multi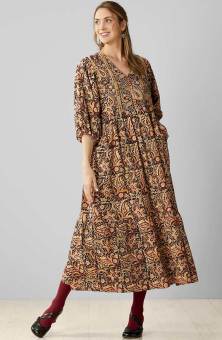 Zahara Dress - Black/Multi
$118.00–$124.00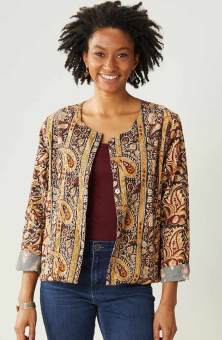 Reversible Harisha Jacket - Black/Multi/Ash
$148.00–$154.00
Write a review
---
Very pleased wtth purchase
Dec 9, 2022 | By Ursula Hahn
Perfect fit, and nice design and style. I'm certain I'll receive many positive responses from friends and neighbors.
---
Lovely Tunic
Jul 10, 2023 | By wibini
The fabric is beautiful and it is well made, as all their garments I like it a lot
---
Love it too!
Jul 14, 2023 | By jenni
I love the fit, the style and the comfort. I would suggest you know your measurements for this site, and go by the garment measurements and not depend on basic USA sizing. If you do that, you won't be disappointed, you can go with the over sized look, or get the size that is more fitting. I always have problems at other stores due to inconsistency with sizing, but here you see the garment measurements and get it right every time! I love that!!!
---
Pleasant Surprise
Oct 16, 2023 | By Marianne Luther
Like all of my garments from MarketPlace, I love the new addition. It fits well, looks good, and is easy to take care of. It also lends itself to conversion from daytime casual to a fancier setting.
---