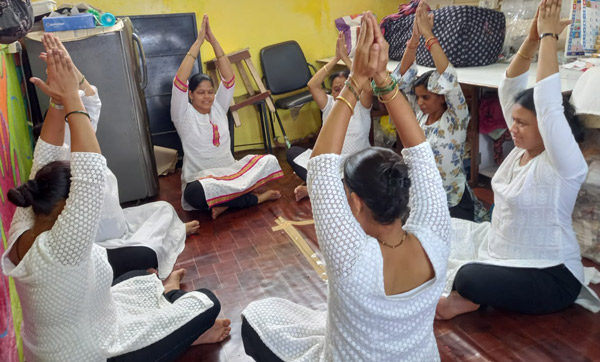 Celebrating International Yoga Day
Yoga classes came into being in 2018 when the women wanted to improve their health and reduce stress. At first there were difficulties finding space, but then COVID shut down in–person meetings and the classes went online. Many of the artisans still practice Yoga daily. They decided to celebrate International Yoga Day as a group by dressing alike: black and white yoga clothes. Many of them had never worn pants before, and the consensus was pants and a T-shirt are much more comfortable than a saree for doing yoga!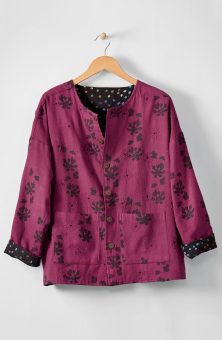 Reversible Zaina Jacket - Black/Chindi/Orchid
$188.00–$192.00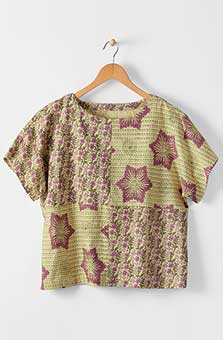 Charita Top - Citron/Multi
$68.00–$72.00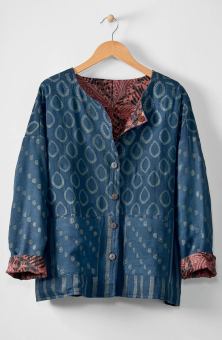 Reversible Zaina Jacket - Ambrosia Chindi/Dark pond
$168.00–$174.00
Write a review
---
Great colors and Comfortable
Oct 26, 2022 | By j
Another wonderfully comfortable jacket made by Marketplace. I love the colors: lavender and lime green together are a complementary match. Great to wear by itself or a shirt underneath.
---
zaina jacket
Oct 27, 2022 | By bee
the artisans have created a wearable work of art in this reversible jacket. the mix of colors/prints along with the hand embroidered accents is lushious. thank you all for this versatile addition to my marketplace wardrobe!
---
Rule-breaking
Nov 24, 2022 | By JoWynn Johns
Buying and wearing Marketplace clothing for about 30 years, I remember being taught never to combine different prints. This combination of prints is fantastic--so lively. And the reverse is just as great.
---
luv yer reversible jackets!
Feb 9, 2023 | By bee
this is another wonderful wearable work of art! i feel sooo good when i wear this jacket - thanks again ladies of marketplace
---