Supporting Independence
The artisans have been holding meetings to talk about the values that are central to their lives now. For many, the independence they now enjoy is in stark contrast to their lives before MarketPlace. In many cases their families tried to restrict both their freedom of thought and action. Nasreen appreciates that her family supported her decision to work. Her income not only pays regular household bills and school fees, but also her father's extensive medical expenses.
Shipra Tank - Black/White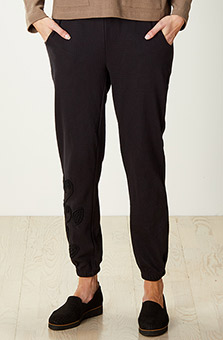 Jogger - Black
$72.00–$76.00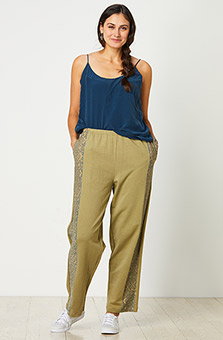 Manju Pant - Verbena
CUSTOMER REVIEWS





These pants are the best!
Jan 8, 2022
By Cheryl
These are my absolute favorite pants. I went from a job where I wore skirts every day to being retired and wearing casual clothes every day. These pants are so comfortable and so cute. I'm a 2X so it's hard to find pants like that, but these are awesome. I wore them so much that they were looking faded, so I ordered another pair! I can't think of any negatives about them except that the elastic did roll a little in the waist, which annoys me but doesn't keep me from wearing them.





Perfect fit
Jul 14, 2021
By Sala Ponnech
The pants I bought were the perfect length (for short pants) and had just the right amount of looseness.





views
May 19, 2021
By mags
PLEASE show more views, not just the front. i have great difficulty with fit, and like to see the seaming, garment design, etc from the side and back. I have requested this before with no results! i bet there are others who feel the same. Multiple views of only the front does not help.