COVID Helped Us Reinvent:
The constraints and restrictions of the pandemic compelled us to find new ways to achieve our goals. Through meetings and actions the women worked together to march, protest and educate the public. They opposed corrupt officials and negligent garbage collection, and they attended training sessions on women's rights and health. But these were all in–person meetings and actions. We had to reinvent our strategy. Google Meet came to the rescue! The women, with limited or no computer experience, learned to use cell phones to attend virtual meetings, speak in turn – and mute/unmute.
Praveer Shirt - Flax/Indigo
$66.00–$69.00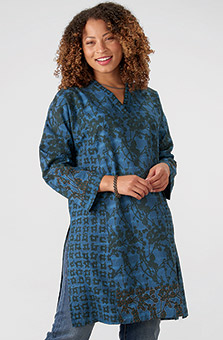 Sanika Kurta - Lake
$138.00–$144.00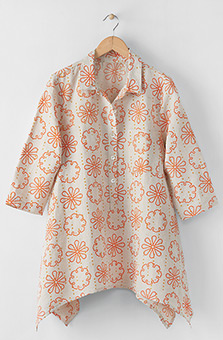 Naziya Tunic - Flax/Nasturtium
$88.00–$92.00
CUSTOMER REVIEWS





Light as a Feather
Jul 1, 2021
By Linda
Beautifully made, quality material, comfortable fit, and amazing design.





A whim turns winning
Jun 19, 2021
By Rochelle Gatlin
I bought this on a whim because it was on sale, but when it came I loved it. Such fresh and interesting patterns and very comfortable. A winning combination of whimsy and elegance.