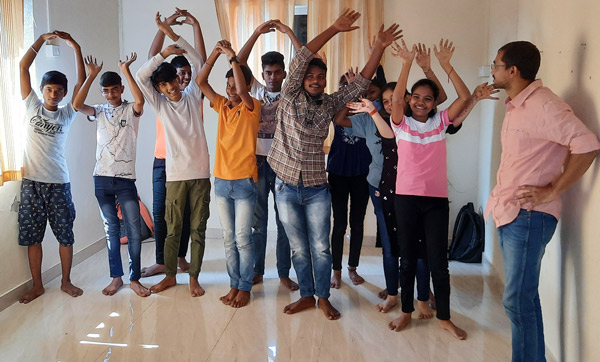 Learning Through Theater
Confidence, communication, critical thinking and discipline! These are the qualities the artisans felt were most important for their children to develop. With these skills, they felt, their children would be prepared for a successful future in any endeavor. To capture the children's attention, what could be better than a Theater Project? Through the medium of theater, the children hone communication and presentation skills. They learn to work as a team, write scripts and analyze meaning. It's all fun and lively, but the life lessons are dramatic.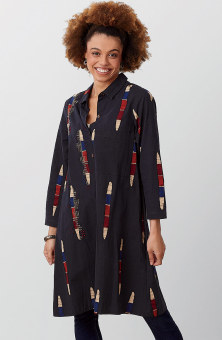 Nahila Shirt - Black/Multi
$128.00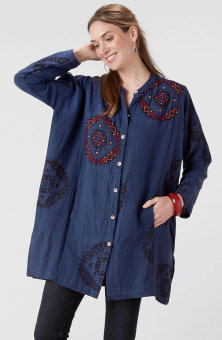 Saroja Big Shirt - Navy/Black
$128.00
Write a review
---
Conversation starter
Sep 7, 2023 | By Alexva
This soft and comfortable shirt attracts compliments and questions wherever it goes, thanks to its stunning and quirky colorful accents. The bright colors that swirl across the front make an easy match to almost anything in your closet or jewelry collection. It's a forgiving and casual cut, great over jeans or leggings; but it can dress up easily.
---
Great shirt!
Oct 9, 2023 | By Jean
I love wearing long, comfortable shirts with leggings in the cooler months. This shirt is perfect for layering over a tank or long-sleeved tee shirt, or for wearing by itself. The embroidery is fun and different, and it gives me pleasure to think of the women who made it.
---
Fun designs
Nov 16, 2023 | By Karyn
It's great to see the variety of stitches used to make your wonderful garments. I wear it with the black Vishram pants and the stitching really stands out. The shirt fits fine, but I think I would order the larger size next time. I'm so used to oversized fits that I've forgotten how to wear a button up shirt! Still, it looks wonderful and it's fun to wear.
---
Fabulous
Nov 28, 2023 | By Nina
This is even cuter and more unique in person. I love it! I just received it today so I can't wait to wear it and hear all the compliments.
---