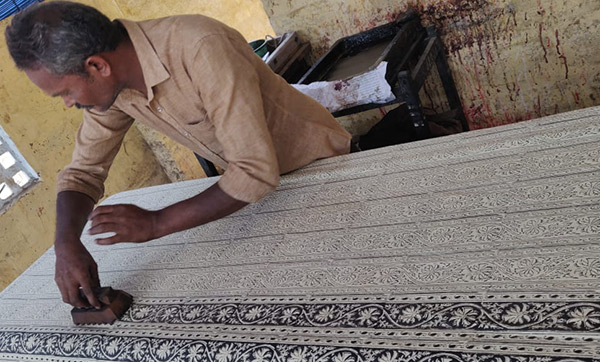 Kalamkari:
The word Kalamkari is derived from a Persian word where 'kalam' means pen and 'kari' refers to craftsmanship. Initially Kalamkari fabrics were hand painted but today wooden carved blocks are used. Kalamkari textiles were a prized trading commodity throughout Asia and Europe for hundreds of years. This traditional art has survived among dedicated artisans in southern India who follow the age–old techniques and natural dye recipes of this painstaking process. The process can involve 23 steps each requiring precision and an eye for detailing.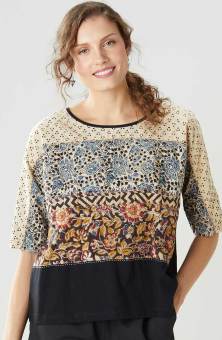 Kandla Dolman Top - Black/Multi
$74.00–$78.00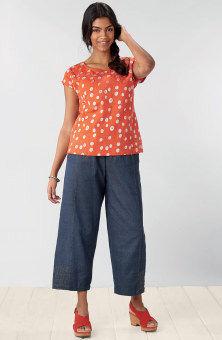 Recycled Yarn Kesari Pant - Denim
$88.00–$92.00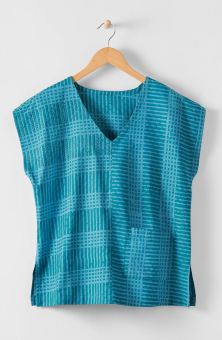 Renu Top - Blue agave
$62.00–$65.00
Write a review
---
New Go-to
Mar 28, 2023 | By Brb
It's still a bit chilly but looking into spring and summer, this is definitely going to be my new go-to top! As always, I love the print. Marketplace is definitely "my look" and my friends tell me I wear it well. I have a hard time containing myself and not buying everything but I already have so much! So many amazing fabric designs and colors!
---
A winning T-shirt
Apr 3, 2023 | By Therry Neilsen-Steinhardt
I like the V-neck on this top and love the short sleeves. I wear this top with jeans or over a Marketplace black jersey dress. I feel cool and comfortable and fashionable wearing this great top
---
Comfortable Beauty
Apr 11, 2023 | By Linda Nemitz
I loved the colors and patterns in this top. It will go with many different pants/shorts. I will dress it up with just the right piece of jewelry.
---