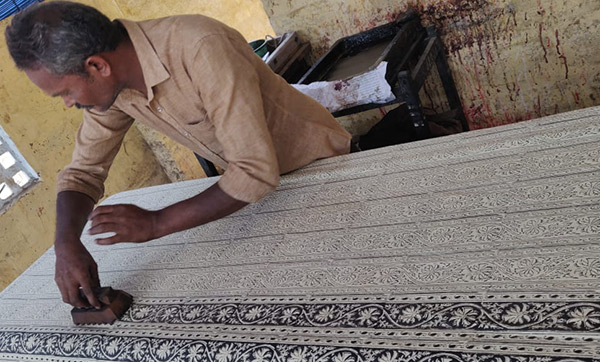 Kalamkari:
The word Kalamkari is derived from a Persian word where 'kalam' means pen and 'kari' refers to craftsmanship. Initially Kalamkari fabrics were hand painted but today wooden carved blocks are used. Kalamkari textiles were a prized trading commodity throughout Asia and Europe for hundreds of years. This traditional art has survived among dedicated artisans in southern India who follow the age–old techniques and natural dye recipes of this painstaking process. The process can involve 23 steps each requiring precision and an eye for detailing.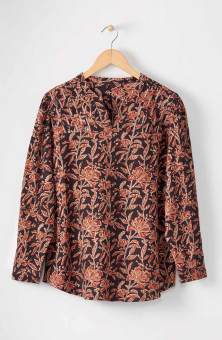 Rohini Top - Black/Multi
$88.00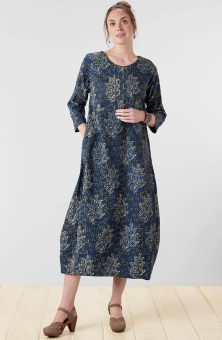 Manjari Dress - Navy/Multi
$118.00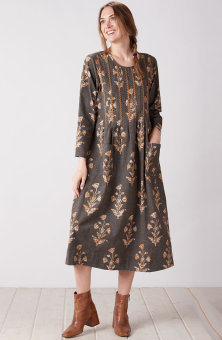 Antara Dress - Lead/Multi
$124.00
Write a review
---
Lovely print but shapeless
Sep 14, 2023 | By Amy M
The print and style are lovely but I will need to do some alterations to make this better for me, it fits a bit like a caftan. I think it won't take much, a bit of hemming and adding some back ties, to be great.
---
LOVE This Dress!
Oct 16, 2023 | By Janet Hanks
This dress is just perfect. The lantern hem adds interest, it fits so well, and is SO comfortable. I get compliments whenever I wear it, which is pretty often, given how good it feels.
---