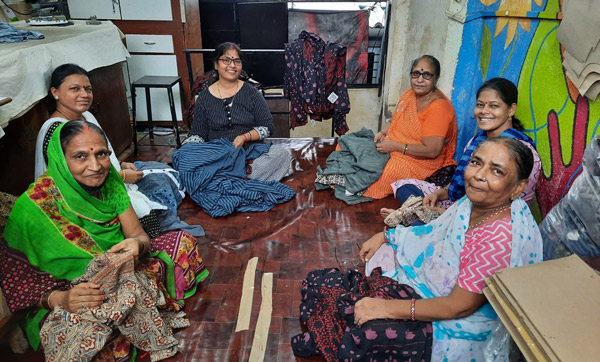 WARE Collective Define Their Brand
WARE (Women Artisans' Rehabilitation Enterprise) was established in 1995 and includes 6 tailors, 20 embroidery artisans, one cutter and two supervisors. They quickly showed their determination to succeed. While they started out in their founder's own home, they soon moved on to first renting a space and then buying their own workshop using savings and loans from the members themselves. The tight–knit group make decisions as a group, celebrate everyone's birthday and are quick to help fellow members. They chose these aspects to sum up their identity:

1.Responsibilities
2.Unity
3.Motivate Everyone For Their Skills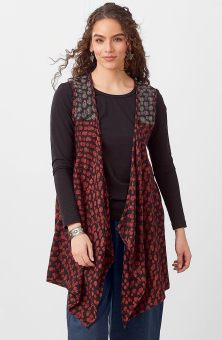 Kashi Vest - Paprika/Fossil
$88.00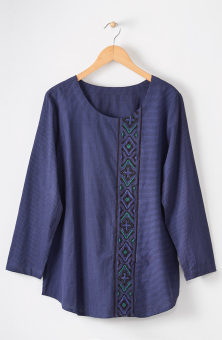 Divya Top - Celestial
$78.00
Write a review
---
v-nect top will be my go-to blouse
Aug 30, 2023 | By susan
This top is beautifully made and fits well. The cotton fabric is lovely as is the little touch of embroidery. Great with black pants or jeans. I know I will wear it often. It's so classy and different than off-the-rack clothing usually seen in stores.
---
Smaller than other blouses.
Sep 7, 2023 | By Linda Jones
This is a very beautiful blouse, and the prints go very well together. However, this was a smaller fit than other tops of the same size. I was very disappointed ... it's uncomfortable to wear, and I'm going to end up giving it to my sister.
---
Even better than expected
Sep 19, 2023 | By L
My first purchase from Marketplace; couldn't be happier with quality. It is soft and drapes well, the cut is flattering, the print rich but subtle, the embroidery just enough to add a special detail without taking over. If it came in other colors, I'd get them, too.
---
V necked shirt
Sep 24, 2023 | By Aw
Beautiful, we'll made, lovely fabric
---
Runs very large
Oct 13, 2023 | By PamM
Pretty top and nice fabric. Even though I am really a M in size, I always order a S from Marketplace because I think their tops run large. This time, S was HUGE. I can't see how this possibly could be considered S. I am very disappointed and sent it back.
---
Wanted to love this
Nov 1, 2023 | By Shelley
Adore the colors but was expecting a softer, more flowing piece. Unfortunately the fabric was quite stiff and on me it was a bit tight across the bust, so had to return. Sad: I Still love the colors......
---
Divya top v neck
Nov 6, 2023 | By Brigit
This is a cute top! The neckline seems to be a little narrower than before, which is an improvement on this style. I will probably purchase more depending on the colors. Recommended.
---
Lovely top
Nov 19, 2023 | By Miss meo
A very nice top: lovely fabric and construction. The sizing was a bit off, I will need to remember to order a size down in the future, but a couple of quick new side seams, and it's great!
---