Reaffirming The Commitment To Work:
Seeing how the women responded to all the challenges of COVID restrictions with energy and a can–do spirit showed us how impactful our empowerment programs have been. It reinforced our belief that when women are exposed to resources and new ideas, they can take charge and make changes. The women have been determined to work and have come up with very creative ways to get to their workshops and to obtain supplies even when stores were closed.
Gavya Top - Capri teal
Vasanti Tunic - Ink blue
$62.00–$65.00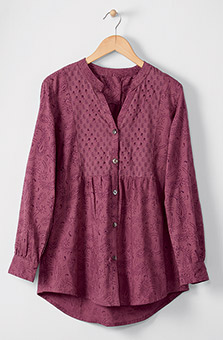 Latika Shirt - Plum
$74.00–$78.00
CUSTOMER REVIEWS





beautiful pattern!
Sep 8, 2021
By Michele
Another comfortable, flattering shirt from Marketplace. The lightweight cotton makes it a good choice for warm days.





Lovely
Aug 4, 2021
By Camilla Trinchieri
Well seen, fits beautifully, lovely color. It makes me look good. Only caveat as I have bought other wonderful clothes from this company: wash by hand or by itself in the washing machine as the colors can bleed.





Great summer tunic
Jun 27, 2021
By Mary Lynn
I love this tunic shirt. Cheery turquoise color in print; background is not white, so softens the visual effect. Good length to wear with leggings or whatever. Fabric hangs nicely -- is not ballooning, but roomy enough to wear as a jacket or just as a shirt. Very comfortable. Look forward to wearing it.





On first wearing has become one of my favourite shirts
Jun 5, 2021
By Michele
While I always wish for pockets in everything and this doesn't have any, in every other way the shirt is a truly beautiful addition to my wardrobe. I thought it might e dull but it isn't. And the pattern hides any wrinkles so I'll be taking this traveling as we return to that. Thank you!





Beautiful and comfortable
May 31, 2021
By Nancy Tallman
Again the ladies have made a beautiful item. The fabric is comfortable, the design beautiful.





Well done!!!
May 24, 2021
By Sharon Keane
Will be one of my favorites!





Great shirt, but much too large
May 16, 2021
By Catherine D
The fabric and the embroidered details were lovely. However, I ordered a medium, and although the tag said medium, it was easily an extra large. It could have been a really cute late-stage maternity top. I am exchanging it and am hoping that a small is a much better fit for my usually medium build.





Great top
May 12, 2021
By Margaret Mcintosh
As usual I'm pleased with my new Market Place top!





Skinny sleeves on a lovely top
May 8, 2021
By Hilary
I can barely get my arms into the sleeves! I'm 5'4", 120 pounds. Bought an xs and other than arms it fits.





I love this shirt!
May 1, 2021
By Sheila
I had my eye on this shirt for along time, but it was not avialable in my size,. I'm so glad they restocked it in blue. The fabric is so soft-and I love the pattern. It's become my favorite shirt





Great color and design
May 1, 2021
By Rochelle Gatlin
Interesting and intricate mix of color and pattern. Style is fine except for the white buttons, which are distracting. Wish they were blue instead





Fantastic!
Apr 22, 2021
By Sue12
I love the clothing from this company. Always a wonderful fit, color and craftsmanship. This blouse is beautiful and it washes and dries well, no shrinkage. Will be getting a lot of wear out of it. Very happy!





Cute top!
Apr 2, 2021
By Lisa Connon
Great colors and super roomy fit. Will definitely be a go to shirt this summer!





Very Comfortable
Mar 31, 2021
By Cynthia Heiderscheit
Thi top is great with jeans and it's very comfortable. I love it!!