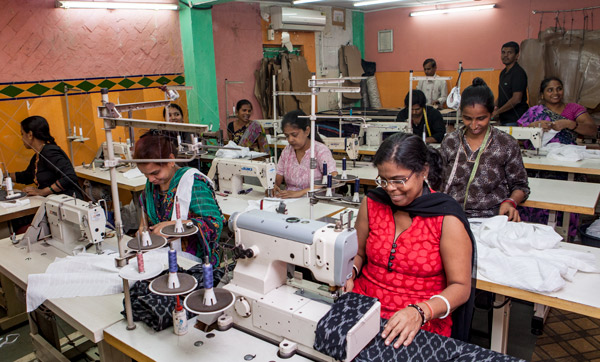 Nirmaan Cooperative Define Their Brand
Nirmaan is one of the oldest and largest groups, consisting of 12 tailors, 20 embroidery artisans, one cutter and two supervisors. Some of the artisans have actually been there for 30 years, and they have seen much growth. When clashes arise in the group, these elders often can intervene with wise suggestions to defuse the situation. It is a lively group, but everyone has the same goal. Whenever a change is considered, they hash it out before coming to a consensus. They love learning new things and are always eager to participate in social programs and events. Nirmaan chose these four aspects to describe their identity:

1.Unity
2.Hard Work
3.Quality
4.Communication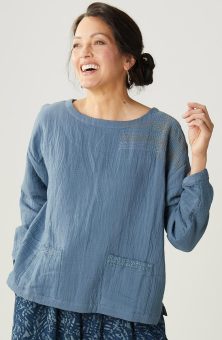 Parisa Top - Pond
$92.00–$96.00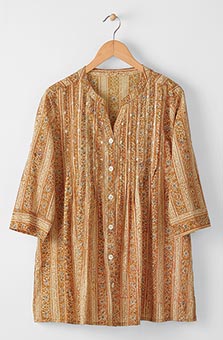 Vaishali Tunic - Marigold
$82.00–$86.00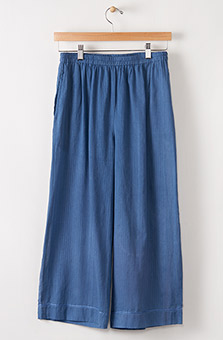 Voile Culottes - Ink blue
$46.00–$49.00
Write a review
---
Pretty
May 5, 2022 | By Joyce Jordan
May need to iron until it's been washed a few times and softens up. Nice light weight for summer coverup, and not too transparent to wear alone.
---
So glad I bought one in every color!
Jun 2, 2022 | By Kathleen Hiseley
These tops are my favorite and the lighter ones are sheer enough to be almost weightless. They look perfect over a camisole or tank top but the pleats on the front definitely need ironing after going through the washer!
---
Wonderful blouse
Aug 23, 2022 | By Janet
I wear it all the time.
---