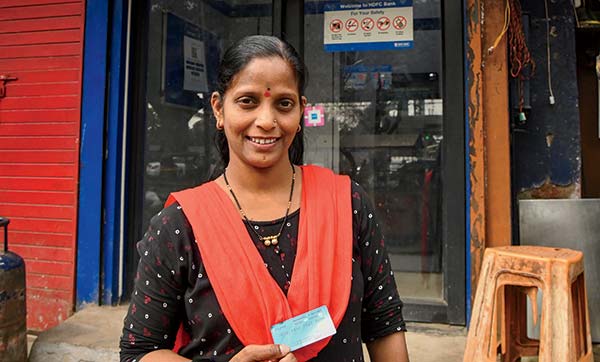 A Culture of Mutual Support
In stark contrast to the fast–fashion industry, where low–cost goods are often produced by exploited workers in dangerous conditions, Marketplace was founded to give artisans a livable wage from dignified work in a safe environment.

But that's just the first step. To achieve its broader goal of transforming lives and communities, Marketplace encourages women to determine their financial destiny. Over the years, supported by Marketplace, women have opened bank accounts, and started planning for the future. They have even launched collective saving clubs.

Lavina Dandekar, a tailor at Nirmaan Collective, got her first ATM card, allowing her to experience the dignity of financial independence. "I can withdraw money on time for school fees and for paying utility bills," she notes with pride. "But the most important part is that I am not dependent on anybody for managing my money."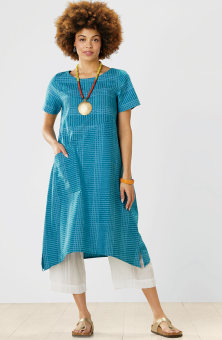 Maisha Dress - Blue agave
$94.00–$98.00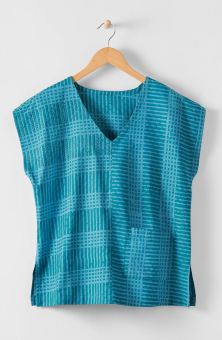 Renu Top - Blue agave
$62.00–$65.00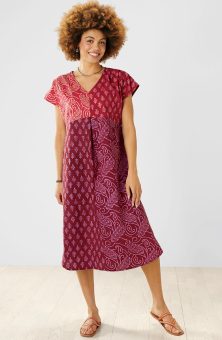 Mandla Dress - Wood violet/Multi
$94.00–$98.00
Write a review
---
You've got a winner here - should be a catalogue staple
Jun 22, 2021 | By Susan O'Donnell
Most convenient garment I've seen in years. After receiving my white, backordered pair, I wanted to order another pair - but my size was gone (along with most others). So I've taken over where you stopped. I've made myself an oak tag pattern, found a fabric source and I'm doing lot of dyeing. Thanks for the idea - I'm running with it. Somebody has to!
---
Just exactly what I ordered
Jul 28, 2021 | By S
This is the third order from Marketplace and each time I have received exactly what I ordered. Each item is very well made and I love the fabrics. Any time you actually get what you want is a win. Honest. Good quality. Fair price for all involved. I will be a loyal customer because this is a reliable organization.
---
Voil Culottes-White
Apr 27, 2022 | By Sheila Pyatt
Very Happy
---
Beautiful Culottes
Jun 13, 2023 | By Tutu
I had been looking for a lightweight pair of pants to wear to a very warm summer wedding. I had the perfect top but finding the right pants was a problem. These culottes are perfect! VERY lightweight and sheer, well made and the hand stitching looks just like the hand stitching on my blouse.
---