A Day in the Life of Pushpa Jaiswal
June 16, 2018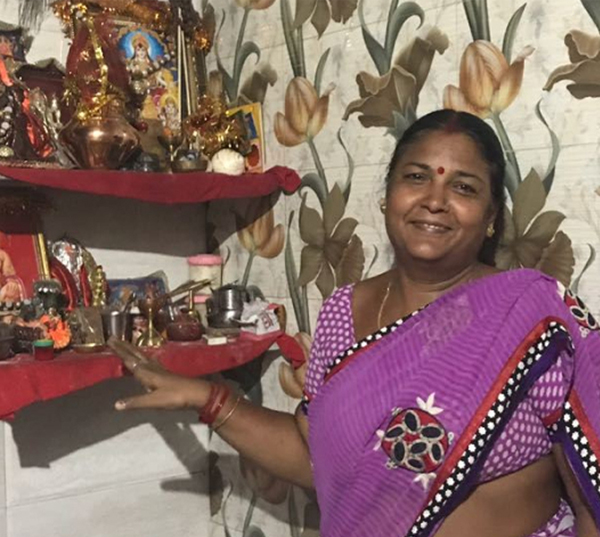 An Embroidery Artisan from Sahara.
Pushpa, age 52, was married when she was 15. She now lives in Mumbai with her husband, Om Prakash, a taxi driver. They have 4 children and a very full house. Her son Kuldeep, 29, works at a computer company. He is married and his wife and 6-month-old share the home. Also living there is Pushpa's 27-year-old daughter, Kormal, who works in a garment factory, and her 24-year old son, Rahul, who works in a shoe shop. Her other daughter, Neha, 28, is married and lives elsewhere with her husband and daughter.
Pushpa's first daily chore is filling the water vessels at 5 a.m. After making tea for everyone, she starts in on food prep, cutting up the vegetables. She takes a quick break to bath and does her daily pooja worship. After that, she cooks the vegetables while her daughter-in-law makes the chapatti flatbreads.
The cooked food is packed into tiffin carriers, Indian lunch boxes, for her husband and children to take to work. After breakfast around 8, Pushpa and her daughter-in-law do laundry, soaking the clothes in tubs and scrubbing on the floor. After hanging the clothes to dry, Pushpa has time to work on the embroidery pieces she has brought from the workshop.
Her daughter-in-law cooks lunch and they eat around 2:00. Afterwards, Pushpa goes to the artisan workshop to turn in finished pieces, chat with friends, and collect new assignments. After shopping for milk and vegetables, she gets home around 6 p.m. She prepares the vegetables and then looks after her grandchild while her daughter-in-law does the cooking.
Then she may do some more embroidery, watch TV, and/or catch up with her kids and husband. They all come together for dinner at 10 p.m., and then everyone pitches in to clean the dishes and floor before getting to bed after 11.
Weekends and special occasions provide some variation in routine. Sometimes on Saturdays, the family visits temples in Mumbai or heads for the beach or a nearby park for some fresh air. Kachori, a spicy filled snack, is an occasional treat. They also enjoy chole, chickpea curry. During Diwali, they light lamps, decorate the floor with Rangoli designs, and make special sweets. To observe Chhat Pooja, they have a worship ceremony on the beach.

The biggest recent celebration in the family was the 2016 wedding of her son, with around 250 guests. Pushpa refused to take dowry for her son's wedding and spent money, about 250,000 Rupees, to celebrate the engagement. When her daughter married in 2012, she had to pay for the wedding plus give 300,000 Rupees as dowry. Her dream now is that her younger daughter will find a husband soon. She is very proud that she was able to educate all her children.