Power of the Human Spirit - 1
April 05, 2020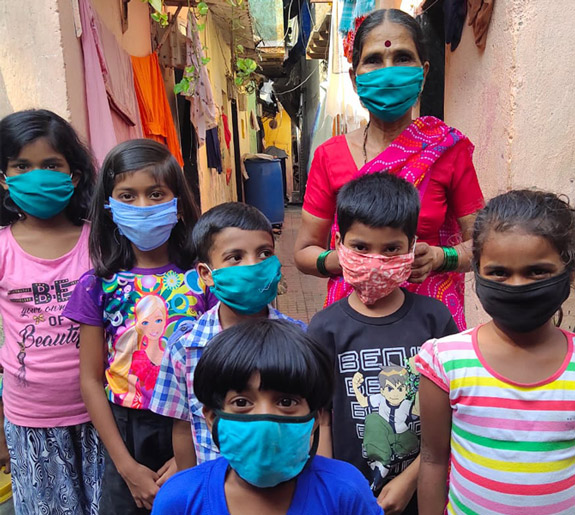 Shelter-in-place has been challenging for people all over the world. In India you hear heartbreaking stories of isolation, large families in very small homes, challenges of keeping kids and teens at home, not enough money to buy food, and more. The massive media coverage brings us sensational stories constantly from all over the world.

We wanted to bring you everyday accounts of how the women artisans in India are dealing with this difficult situation. An All-India shutdown (1.2 billion people) was declared on Tuesday, March 24. On Thursday, all the MarketPlace staff members started calling the artisans to check in. This is some of what we learned in our conversations with them.

To learn more about our response to COVID click here
GIVING BACK TO THE COMMUNITY IS A VALUE OF THE ARTISANS
On their own initiative, women artisans bought fabric, designed and made masks. They are distributing these masks free of charge in the community. In the first few days, over 300 masks were given out and now we are approaching residents of Mumbai to donate toward continuing and expanding this endeavor.
Top Left: Sampada Devli from Shramik Mahila Mandal Co-operative and her son Top Right: Neha Norah from Sahara Collective Bottom Left: Jagruti Acharekar from WARE Collective with her neighbor Bottom Right: Shaila Kamble from Arpan Co-operative with children from her community - She made masks from left-over fabric and distributed them for free to the children in her community.
BONDING AGAIN
Some of the artisans have board games like carrom, snakes and ladders (chutes and ladders), blocks etc. With so much time to fill, these were brought out for entertainment. Some of the women commented that they remembered playing such games when their kids were little, but had not had this kind of family time recently.
Top Left: Wahida Ansari from Aashiyana Co-operatives husband and children Top Right: Rajashree Bane from Share with her family Bottom Left: Dipika Surti from WARE Collective and her family Bottom Right: Sampada Devli from Shramik Mahila Mandal Co-operative with her son
PEOPLE ARE ADAPTABLE
The day after the shutdown was Gudi Padwa, the Hindu New Year. It is a big holiday and normally people go to the temple to worship. This year, however, they worshiped at home. The Muslim artisans also miss their Friday visits to the mosque but now pray with the whole family at home. In both Hindu and Muslim faiths, the men worship separately from women and this is not possible at home.
Top Left: Anjum Ansari from Aashiyana Co-operative Top Right: Anjum Ansari family offering the daily prayer Namaz. Bottom: Savita Singh and Seema Yadav from Ghar Udyog Collective
FOR EVERY CLOUD THERE'S A SILVER LINING
Udyog Kala Kendra (UKK), the workshop where most of our block print and batik fabric is printed, is using this time to clean the workshop and organize the blocks. UKK provides lodging next to the workroom for their out-of-state printers. In this massive reorganization, over 120 blocks were all cleaned and divided into categories. The next step, currently being undertaken, is to catalog them all. This work could never have been done if production was proceeding normally, but it will prove to be very useful in the future.
CLICK ON THE LINKS BELOW TO SEE MORE FROM THE ARTISANS.
Power of the Human Spirit - 2
Power of the Human Spirit - 3
Power of the Human Spirit - 4
Power of the Human Spirit - 5
Power of the Human Spirit - 6
Power of the Human Spirit - 7
Power of the Human Spirit - 8