Batica
February 22, 2019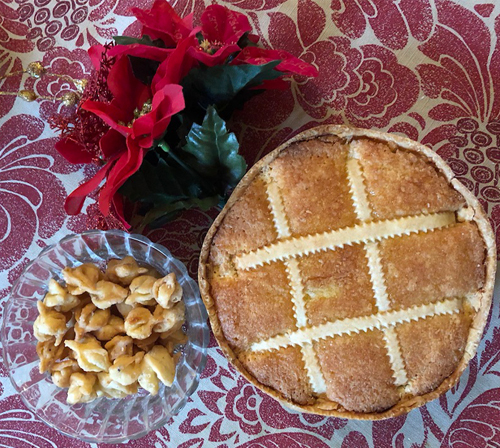 A Goan coconut cake is often made at Christmas. It was a childhood favorite at Christmas breakfast and tastes great with coffee or tea.
Pie Crust Ingredients: (Optional, tastes great without crust, too)

2 cups all-purpose flour, sifted

1 tsp salt

2/3 cup butter or shortening

5-7 Tbsp cold water

Cooking:

Put flour into a mixing bowl with the butter. Using a pastry cutter, cut the butter into the flour. Add the salt and water. Mix until dough is formed. Roll out on flat surface. Cut strips for decoration at the top. Bake at 375 degrees until brown.

Filling Ingredients:

¼ lb. sooji (cream of wheat)

1 cup coconut powder (unsweetened)

½ lb. sugar

Pinch of salt

1 tsp. vanilla extract

2 Tbsp butter

3 eggs

Cooking:

Preheat oven to 300°F. Mix the sooji and coconut powder in a large mixing bowl.
In a saucepan, combine sugar and water (just enough to cover the sugar so it melts) and heat over medium heat, stirring constantly, until it forms a thick syrup.
Turn off the heat and add the sooji-coconut mixture, salt, vanilla and butter. Stir to combine and set aside for 3 hours.
After 3 hours, beat eggs in a small bowl and fold into the mixture.
If making with crust, pour into the prepared crust pan. To make without crust, just pour the filling into a greased 8" to 9" pie or cake pan.
Bake for about 25 to 30 minutes until the cake is firm.