Appreciation Day 2022
September 27th, 2022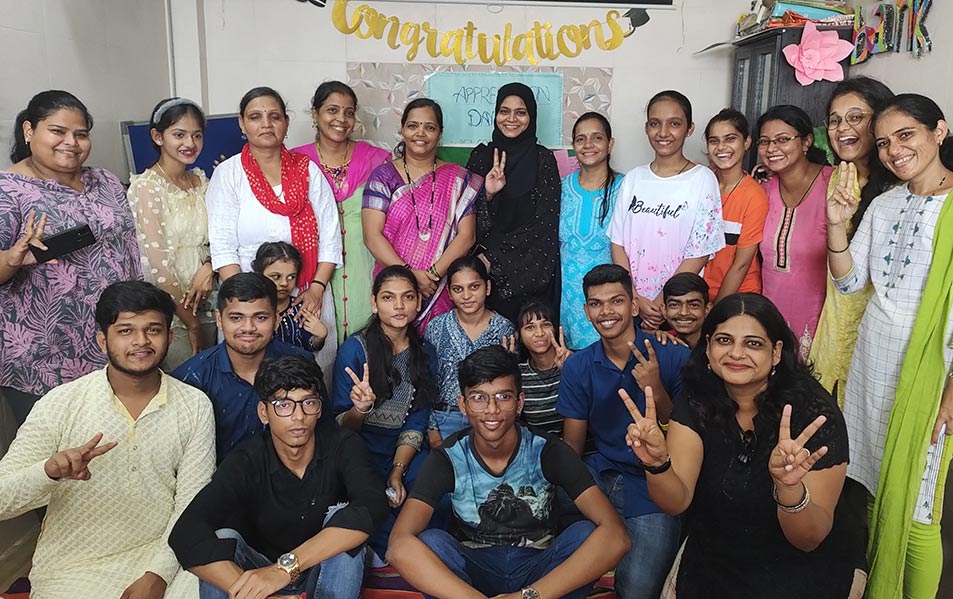 In India school board examinations are crucial milestones which influence the rest of a student's life. Administered after 10th and 12th Grade, success on the exams opens the way to more choices and opportunities. They are important stepping stones to further achievements in life, including additional education, training and careers. Every year at SHARE (MarketPlace partner in India) we hold a great celebration for the daughters and sons of the artisans who have passed.
This year 32 students, 16 boys and 16 girls, appeared for and cleared their board examinations. 11 were from Grade 12, and 21 were Grade 10. The proud parents were invited to be an integral part of this celebration. A lot of planning and preparation went into making this a day to remember. From setting a convenient date for everyone, working on a schedule, budget and refreshments and decoration for the event.

One important assignment was deciding on a gift for the students. Every year the graduating students were given something that was both current and useful. After discussing how online studies and technology have become such a part of our lives, the students were given Bluetooth handsets. At the celebration, the parents presented the handsets to their children, while in return the students gave their parents an assortment of sweets. They thanked one another, appreciating all the work and support that brought them to this success.
This year we decided to do something meaningful. Each parent and student was given note paper and they were asked to write down 3 things they liked or loved about their parent or child. This turned out to be a very emotional exercise.

When students opened up their hearts and spoke about the sacrifices, staunch support and invincible spirit of their mothers, there was not a dry eye in the house.
Priya Yadav with her mother; Pratham Chavan with his father
Priya Yadav, a 10th Grade graduate, and daughter of Ghar Udyog embroidery artisan Seema Yadav, saluted her "mother who made me." There were fathers present, as well. Pratham Chavan of Grade 12 shared that his father is supportive and understands him. In turn, his father, Mr. Vaibhav, proudly spoke of how his son is very focused and hardworking. In fact, Pratham helps to support his family financially by making and selling festival decorations.
The parents and students continued to share their heartfelt notes. Namit Pandey, a 10th Grade graduate, described how his mother is extremely hard-working and always gives her best effort at home and for work. "She is selfless and never expects any appreciation in return for the innumerable things she does for us." His mother, Nisha, is an embroidery artisan at Ghar Udyog. She spoke of her son's caring nature: "If I am coming home from the workplace late I call him from the bus stop." Namit then prepares tea, ready for her when she walks in the door. Another mother, Suniana Vishwakarma for Utsaah Cooperative, praised her son Vedant: "My son supports me in everything. If I am unwell he takes very good care of me." When she has to rush out to work, she is confident that her house is safe and in good hands as Vedant will keep it clean and in order.
Vaishnavi Gupta and Trupti Sahu scored the highest points in 10th grade and 12th grade respectively
While all the students were due praise for their accomplishments, the girls had a little something extra to celebrate. Girls came first in both classes, with Vaishnavi Gupta securing a 91.8% in the 10th Grade exam and Trupti Sahu scoring a 79% in Grade 12. Trupti, daughter of artisan Arti Sahu, a tailor at WARE Collective, shared credit with her mother. "She supports me in everything and encourages me to fulfill all my dreams. I am able to pursue my career dreams because she stands strong behind me," she declared. With her strong academic record, Trupti was able to enroll in a program for a Bachelor's Degree in Computer Science.
All of our work preparing and organizing did produce a wonderful celebration. But the important part of the day was not the decorations or refreshments, but the mixture of emotions shared by the parents and children. The students were justifiably proud of their accomplishment, but they truly appreciated the support and encouragement of their parents.

The artisans have always placed a high priority on education for their children. Many of these women were not allowed to pursue their schooling, and they are acutely aware of its importance. They want their daughters and sons to have choices and achieve success in whatever field they want. These mothers have helped Share develop programs such as the Armaan Club which give the children useful advice and help and outlets for creativity and extracurricular learning.
This Appreciation Day was a huge success , sharing their emotions and pride in the success of their sons. Congratulations to all the students and their families!