Auditing for Best Practices
October 25th, 2022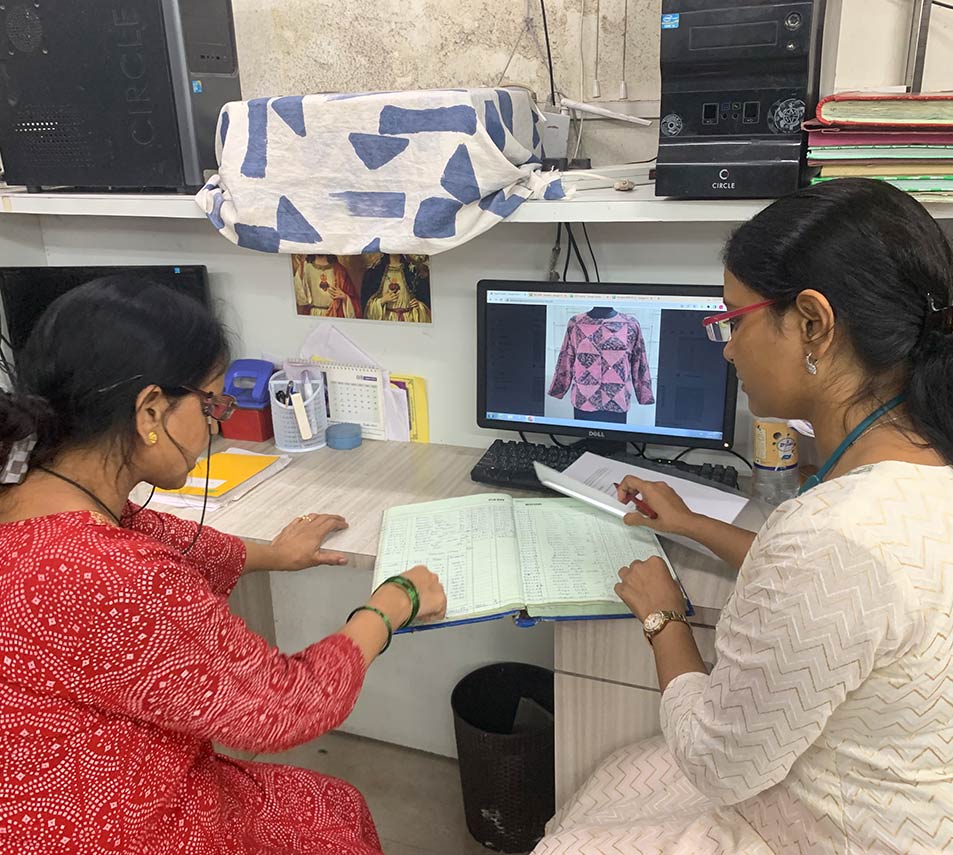 Audits of each Cooperative or Collective are conducted annually. This year they were conducted in the months of July and August 2022. The aim is to make sure all groups are compliant with the systems required to ensure hygiene, health and safety standards. Since we are a Fair Trade Organization, it is also extremely important for us to check that all artisans are being paid on time and in accordance with the fair price agreements we have set. Other important areas which the audit questionnaire is designed to identify, evaluate and record are fair distribution of work, involvement in social programs, and the artisans' awareness of their roles and responsibilities as members of a working cooperative.

While every group was doing a good job there were areas for improvement. The most important takeaway from this time concerned getting the groups to go digital. Last year, systems in Excel / Google Sheets were developed for planning production and maintaining fabric details. The MarketPlace Production Coordinators have been working with their individual groups to train them in these systems and encourage them to familiarize themselves with the Excel / Google Sheets and associated formulas. The results have been encouraging.
Ghar Udyog Collective
Ghar Udyog started the much-appreciated and copied practice of keeping individual books / registers for each of the artisan. These books have a record of products taken daily and returned when completed. This includes details of the product and exact number of pieces completed, salary calculation and is signed by the individual artisan, thus ensuring complete transparency. Ghar Udyog also maintains salaries in an Excel Sheet which was perfectly maintained. In the past they have had issues with salaries calculations, which makes this a very good initiative by the group.

They have also appointed a supervisor who has made sure that the piece distribution and paperwork are up to date. However, we did observe that the embroidery supervisor had the highest salary for pieces completed, which is against the rule of MPB because it could indicate that she was giving preference to herself. The same has been brought to the notice of the group manager and will be monitored by them and MarketPlace every month.

Internal quality check is taken very seriously by the group and the new supervisor is doing a great job of it. Ghar Udyog has the lowest rate of rejection, just 4% in the last season!

One important aspect we check during the audit is safety and well-being of the artisans. Group celebrations are important bonding and recreation experiences, and GU tops the list: in the last six months, they have been on 1 picnic, 1 group resort lunch and done a tree plantation drive. The Manager also arranged for all the artisans to get their second COVID-19 shots and recent boosters at the local health center.
Pragati Cooperative
Pragati Cooperative is a new cooperative, and this was their first audit. The group has been doing very well in terms of quality of production and meeting their delivery dates. They passed the audit with flying colors. All the books were up to date and the numbers showed an upward growth.

Pragati organizes its production in a line system, meaning more than one woman artisan makes each product. In this case, the wage for that product has to be divided for more than one tailor, which is a potential source of conflict. Despite that, there were no errors in calculation. These calculations, however, were time consuming and so a system in Excel was developed to make it easier. Since the group is still paying back their start-up loan they cannot currently buy a computer system. We have therefore made the spare computer at the MarketPlace office available to them.

Pragati as a group is equally proactive in the social programs as they participate in all the programs and make sure their children also get the benefit of programs and sessions. When asked about a positive change they have been able to bring about, they cited collection and recycling of plastic waste. As the pick-up van does not come to the exact location of the cooperative, the artisans have organized into pairs who take turns carrying the collected waste to the pick-up location. Not only are they coordinating the work on their own, they seem to have an understanding that the responsibility has to be shared by everyone. The women have also made sure that their children also understand their responsibility towards the environment and are part of this initiative.
Shramik Mahila Mandal Cooperative (SMM)
SMM cooperative has been showing an upward growth for successive years now. The group was advised to invest in buying a computer system so that they can follow and be up to date on the systems started by MarketPlace. The group bought a system last Diwali (October 2021). A year into working on the computer (for which the Group Manager took a three-month course), they are now ready to work on the Excel / Google Sheets for all data. They are maintaining the records in hard copy and computer and working on decreasing any discrepancies.

All the artisans opened bank accounts in the same bank making payment to them easier to process. SMM has seen many internal conflicts and issues which was one of the areas to improve from the last audit. Efforts to increase bonding were also noted during this audit as the artisans have started celebrating birthdays for all members and recently also went on a group picnic.

The social workers who visit regularly noted that they are on time for all sessions. We were also pleased to see the group members had prominently displayed the SHARE values and also their brand poster and vision statement of Darpan, showcasing the group's social engagements.
Ranphul Mahila Mandal Cooperative (RMM)
In the last year, a new Manager, Surekha, was chosen by the group. The handover went smoothly and there were no deficiencies when it came to the continued upkeep of books. Surekha also simultaneously learnt and updated the systems online. To improve efficiency, they were introduced to some systems being followed by other cooperatives. The MarketPlace production coordinator will be checking on a monthly basis to help the group understand the new formats.

Little growth was seen in terms of skill development and volume of production. Public transportation is lacking in their area and hence they have shifted to a new, more accessible place. This will help them add new members and they are confident that this will improve productivity and growth.

In addition, the group is working to improve their time management skills and productivity. This goal was carried into social engagements also, as the weekly yoga schedule was changed to accommodate all members. Now those artisans engaged in QC can both finish their work and take care of their health. The group took full responsibility for coordinating with the yoga trainer.
Nirmaan Collective
Nirmaan Collective is one of the biggest and oldest groups. It had a change of management a year ago, and during the last audit we had found there was also lack of communication between the group manager and the supervisors leading to inefficiency. There were a lot of errors in the salary calculations. Their respective job responsibilities were collectively outlined to improve overall efficiency.

The group hired someone part-time to update the systems and salaries on excel which has reduced errors. The group also took considerable effort to reach out in the community to find new member tailors to meet the production deadlines and fill in the missing gaps seen in the last audit.

However, there may still be some management issues and the MarketPlace production coordinator will review the systems monthly and improve communication and efficiency. The new management has been able to improve participation and engagement in social programs. Previously, most tailors would not take part in programs on the pretext of work. Attendance for newspaper meetings and yoga shows high and constant growth. Nirmaan excels in having active program leaders who have been steering the programs in the right direction. It is rare for a group to have all 3 leaders active at the same time.
CUSTOMER REVIEWS
Survey
Oct 28, 2022
By Donna Cerny
What incredible skills your amazing artisans / tailors are learning from the auditing process and categories. Bravo to them. Have you ever considered asking customers for feedback and suggestions as to what they might want to see in terms of styles in the future.
Quality
Oct 27, 2022
By Nancy Hamann
It is so inspiring to she what these women do, true artists. They make such a difference to their families and to themselves.
Reflecting on the auditing report
Oct 27, 2022
By Lucia Ann McSpadden
I am both encouraged and impressed to read about the diligence and multi-layered audit you conduct annually. This is such a support for the groups and for the individual women -- learning what is being done well and where improvement is needed plus providing the support to undergird the efforts toward improvement. This is deep respect in action. I am glad to be connected with you. Blessed Diwali and Namaste.
Quality is always the best, love each pieces bit of embroidery
Oct 27, 2022
By Pennie Leggett
I appreciate your transparency and to work to be ever better