Bharvaan Bhaigan (Stuffed Baby Eggplant)
January 12, 2022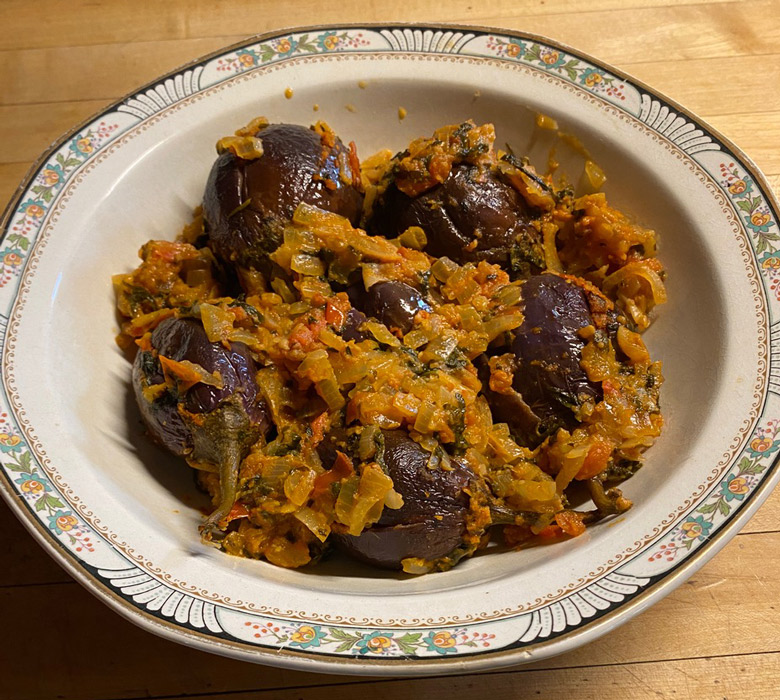 Ingredients:

250 grams baby brinjal (baby eggplant)

1 tsp red chili powder

4-5 tsp of ground peanuts

2 tsp cooking oil

4-5 cloves of garlic (chopped)

¾ tbsp ginger (chopped)

1 medium sized onion (finely chopped)

1 medium sized tomato (finely chopped)

2 bunches cilantro leaves (chopped)

Salt to taste

Method:

Cut a two way slit in the baby brinjal (Perpendicular to each other. Do not make the slits through till the other end) and keep aside.

Prepare the stuffing for the baby brinjal: In a bowl mix ground peanut, red chili and salt. Add a little water to the mixture, making a paste which is easy for stuffing. Then take a spoon and fill the baby brinjal with the paste - approximately one small tsp in each.

In a pan heat the oil, add chopped garlic and ginger stir until it turns golden brown. Then add the chopped onion and keep stirring till the onions start changing color, at that time add the chopped tomato. Stir till the mix turns into a paste. Last, add chopped cilantro and salt to taste and cook for 1-2 minutes.

Once the paste is ready add the stuffed baby brinjals and mix well, cook for 7-10 minutes till the baby brinjals start to cook and get tender. Then add a half cup of water, cover with a lid and cook for another 10 minutes on medium.