Celebrating International Women's Day 2023
March 5th, 2023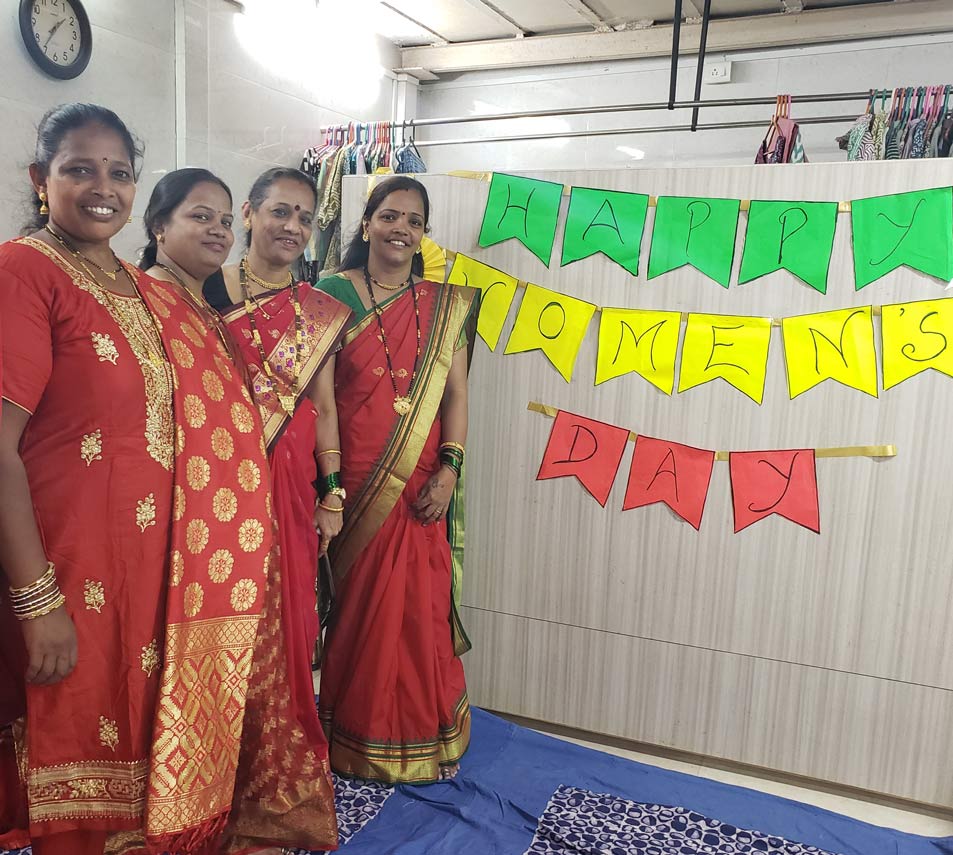 International Women's Day is March 8. This year the UN chose as the theme "DigitALL: Innovation and Technology for Gender Equality," an idea the staff and artisans wholeheartedly support. The past few years were very challenging for the women, but they were able to turn to technology for solutions. In a way, the pandemic forced them to quickly learn fresh skills and attitudes as they incorporated new computer programs and communication systems into their work and daily lives. Women who had hardly used a smartphone became proficient with WhatsApp and project tracking software.
This year special attention was paid to the leaders of the various empowerment programs. 1 to 2 women from each cooperative are the leaders of these programs. They dedicate a lot of effort and time to make these programs successful. It is also a way of building leadership within the groups as these roles are rotated. These women decided to wear either red or white to celebrate, and everyone looked so lovely with jewelry and flowers in their hair!

The artisans really love a party, and they went all out in preparation and performance. Skits were created that highlighted various aspects of innovation and technology. You could tell that this theme was exciting for them and that a lot of time and effort went into the content and presentation.
Aashiyana Cooperative performed a skit on using WhatsApp for work. The women were doing embroidery work from home, and they sometimes had questions about whether the stitching or placement of their embroidery pieces was correct. During the lockdown they used WhatsApp for consultation and confirmation. They learned to click a picture and send it to their supervisor for approval. If more help was needed, they could turn to video calls. Even now, when travel is allowed, this medium ensures that the artisans do not have to wait for the next day to go to the group and clear their doubts. This helps pieces get completed on time and correctly.
Utsah Cooperative chose to show how the Live Location app has facilitated travel tasks. Nowadays we can find anyone anywhere using the live location option. Production includes a lot of moving about of people and products. For example, when fabric is delivered, it must be taken to an office to be checked by the MarketPlace staff to make sure it's the right color and design. Or one production sample garment in each size needs to be taken to be passed for sewing and embroidery accuracy and quality before production can proceed. Sometimes a new artisan is assigned to go to one of the MarketPlace offices for such a fabric or sample check, and she is not able to find the office in the chaos of Mumbai neighborhoods. With this app a MarketPlace team member can share the live location. The artisan then can follow this location on her own. It is efficient, saves time, and bolsters confidence and independence.
The performance by Nirmaan Collective took Facebook as its subject. They noted how on Facebook the world seems happy and problem-free. People wish each other Happy Birthday there so everyone sees and Happy Mother's Day (even though their mothers do not have Facebook accounts). This somewhat tongue-in-cheek revue got a lot of laughs from everyone.

All the participants were asked to send in pictures of their favorite moments ahead of time. These were put together in a Power Point presentation which was shown at the celebration. It was really nice to see the variety of pictures they had chosen to share. Some were of outings with their families, others just of themselves enjoying a moment or eating ice cream!
They also played an interesting game in which one player was blindfolded and given a MarketPlace garment. She then had to try to identify the garment just by touch, figuring out its shape, texture of the fabric, shape of the neck, embroidery, and other details. It was amazing to see that almost everyone guessed it right! Clearly, they know the products inside and out.

As the day wound down, there were refreshments for all and gifts of appreciation for each of the empowerment program leaders. IWD celebrations also take place in each of the cooperatives, with events organized by the leaders.
Pushpika Freitas, President and Lalita Monteiro, Chief Operation Officer were in Mumbai for this celebration. "I felt so fortunate to be with the women for this celebration. Seeing the smiles on their faces and the light in their eyes will be something I will always cherish", said Pushpika. Also Lalita added, "It was an honor and a humbling experience to celebrate International Women's Day with the artisans. Their positive outlook in spite of the challenges they face is an inspiration to me."