Rajma (Kidney Beans)
November 30, 2022 | By Nishi Arora, Assistant Director, SHARE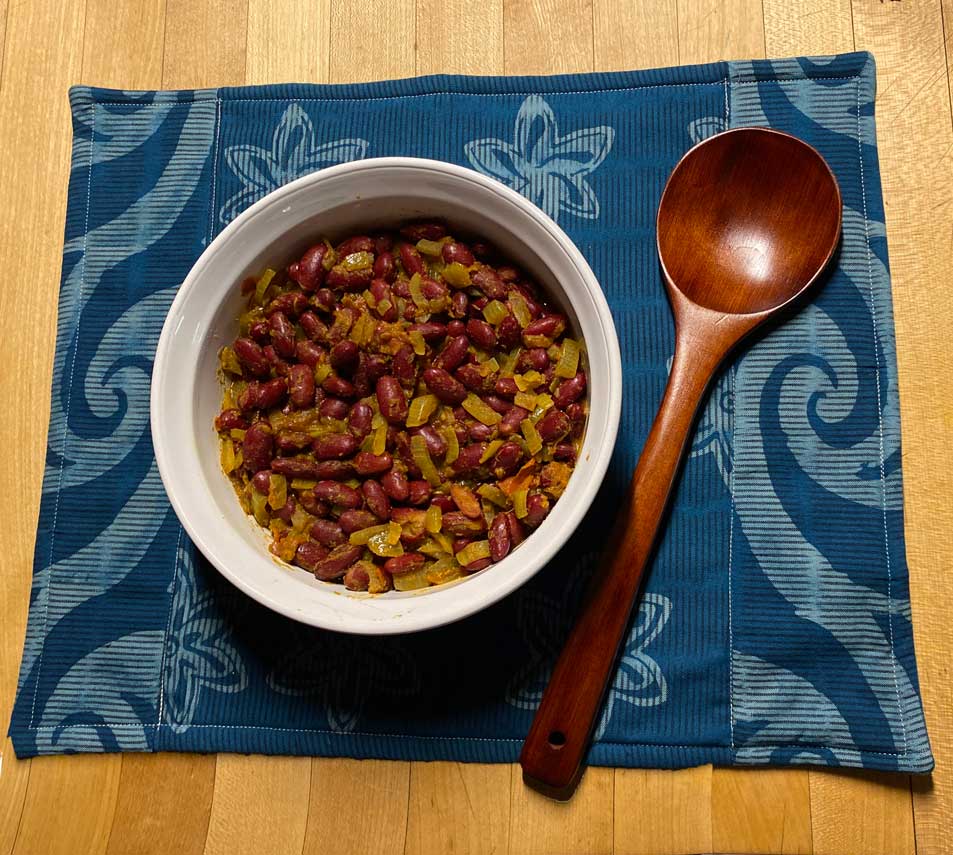 Ingredients:

150 grams (a little over ½ lb) small kidney beans or 2 cans of Red Kidney beans

4 tsp vegetable oil

4 cloves

4 whole black peppercorns

1 cinnamon stick

2 bay leaves

1 tsp cumin seeds

1 medium onion, finely chopped

2 tsp ghee (optional)

2 tsp of ginger garlic paste

1 medium-sized tomato, chopped

1 tsp cayenne or red chili powder

1 tsp ground coriander

½ tsp ground turmeric

1 tsp garam masala ground spice mixture

Salt to taste

½ tsp dried mango powder, Amchoor (optional)

Chopped cilantro to garnish (optional)

Additional ghee to taste

Method:

Soak the kidney beans in water [room temperature] overnight if using a pressure cooker.

Heat 4 tsp oil over medium-high heat. When the oil is hot, add cloves, black pepper, cinnamon stick and bay leaves followed by cumin and stir.

Add onion and stir, add ghee [it adds to the taste and aroma of the dish] and ginger-garlic paste. Keep stirring until the onion mixture turns golden, then add tomato.

Then add cayenne, ground coriander, ground turmeric and garam masala and mix well. Add salt to taste. All the ingredients need to mix well and should be cooked for 5-8 minutes.

Stirring regularly to turn the mixture into a smooth paste. You may need to add a small quantity of water if the ingredients start to stick to the base of the pot. After it turns into a smooth paste add the 2 cans of kidney beans. Then cook on medium heat for 10-12 minutes, adding water if necessary. Add dried mango powder and mix. Add additional ghee [optional]

If using the pressure cooker, add the soaked kidney beans and enough water for the ingredients to completely soak [the quantity of water can be increased based on how much gravy you would like]. Close and cook on high.

After the first whistle of the pressure cooker, lower the flame and let it cook for 25 - 30 minutes. Open the pressure cooker and add dried mango powder and mix. Add additional ghee [optional].

Garnish with cilantro leaves [optional].

Best served with plain rice.