Summer Fest 2023
July 25th, 2023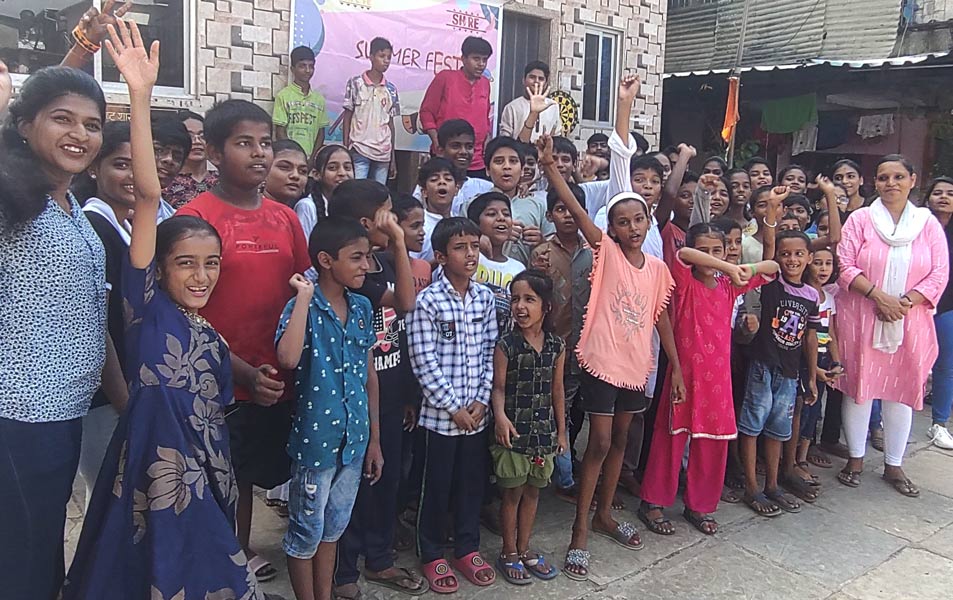 We celebrated Summer Fest! The children and their parents had a ball working on all aspects, from planning and setting up to participating in all the fun and rewarding activities. Our Fest was designed to be a celebration for not just the artisans' children, but all the children in the neighborhood. An open invitation was issued to the larger community though the Education for Life program. This resulted in 10 days of excitement and creativity which strengthened community bonds and gave all the children many unforgettable moments!
Sayali Pokhare, one of the mothers, liked the overall learning opportunities. "We mothers really appreciated the Summer Fest. The most important part is that the children are involved in all the organizing. This encourages them to take initiative, be responsible, and develop important social skills that will benefit them in the future."
The program scheduled a variety of different activities throughout the ten days. One of the days, for example, was dedicated to Art and feelings. Children were encouraged to express themselves through drawings and colors, exploring their creativity and discussing their emotions. This provided a meaningful experience which actually helped Rupal, the therapist, to identify students who may need further counseling during the upcoming school year.
Another day focused on Storytelling, aiming to inspire the imagination and foster a love for stories. The children rehearsed and read all kinds of narratives, including traditional folktales, fables and contemporary stories. When they performed their pieces, the children encouraged the audience to participate. For the story The Monkey and the Crocodile, for example, the children watching were urged to create appropriate sound effects. The enthusiastic attendees provided bird calls, echoing jungle noises, and sounds of splashing water. The session helped build confidence and allowed children who rarely took center stage to participate and shine.
Of course, Food is a part of any Fest, so we included this subject in our own special way by having an interactive Cooking day. This day covered some cooking basics and promoted participation in food preparation. Students in grades 5 through 9 brought supplies such as breads, vegetables, fruit, spices, and other ingredients, from which they prepared creative snacks such as biscuit sandwiches and Bhel Puri with guidance from their mothers. This fun and tasty session will encourage family involvement in food preparation. It also served as a test run for the Food Stalls planned for the Fest finale.
Parent-Child day was designed to foster bonding, creativity and interaction between students and parents. Parent-child teams crafted personalized nameplates in a mandala pattern. The mandala, a symbolic shape found in a number of spiritual traditions, is a design combining geometric and circular shapes and symbols. It often has a form of a maze or map and is used as a focus of meditation. The teams collaborated on their creations, sharing thoughts, and working together in this lovely project. There was an atmosphere of unity and the aim was to foster appreciation for spending quality family time together. The children were all very proud of the artworks and all knew exactly where they were going to display them at home.

Science day provided the opportunity for students in grades 5 through 9 to form groups dedicated to specific topics. They created models or performed experiments related to a variety of subjects. This activity involved research, scientific knowledge, innovation, teamwork, communication and problem-solving. So many fantastic learning skills being practiced, all while having fun! When their projects were complete, the children explained their work to the rest of the students, so there was learning all around.
Days devoted to Art, Sport and Toys & Games offered a wide range of activities for all age groups. Children enjoyed arts and crafts projects such as making bracelets and necklaces. They also enjoyed a variety of games, some active and others, such as board games and jigsaw puzzles, a little quieter. The Toy Bank, which partners with the Education for Life program, provided the games, and even gave each child a gift at the end of the day.

The grand finale of the Fest was a community fair organized by the students. This culminating event included food stands, game booths, and stalls selling some artwork created during the festival. Students were in charge of it all, which required them to call on, or develop, skills in planning, organizing, delegating, and running operations. The game stalls in particular contributed to the fun atmosphere as participants of all ages enjoyed friendly competition.
8th Grader Ayush Saroj related, "I was given the chance to handle a game stall. I am new to the program and could not help with all the planning this time, but I was able to handle the whole stall. Many people came to play, and everyone had so much fun."

Overall, the Summer Fest was a roaring success. A perfect mixture of learning, entertainment, and challenges, it provided a well-rounded experience for the women artisans, their children, and the community. There were opportunities for creative expression, storytelling, culinary exploration, scientific learning, physical activities, and community engagement. Most of all, it was FUN!