Accentuating the Positive: The Artisans Look Back
March 18th, 2022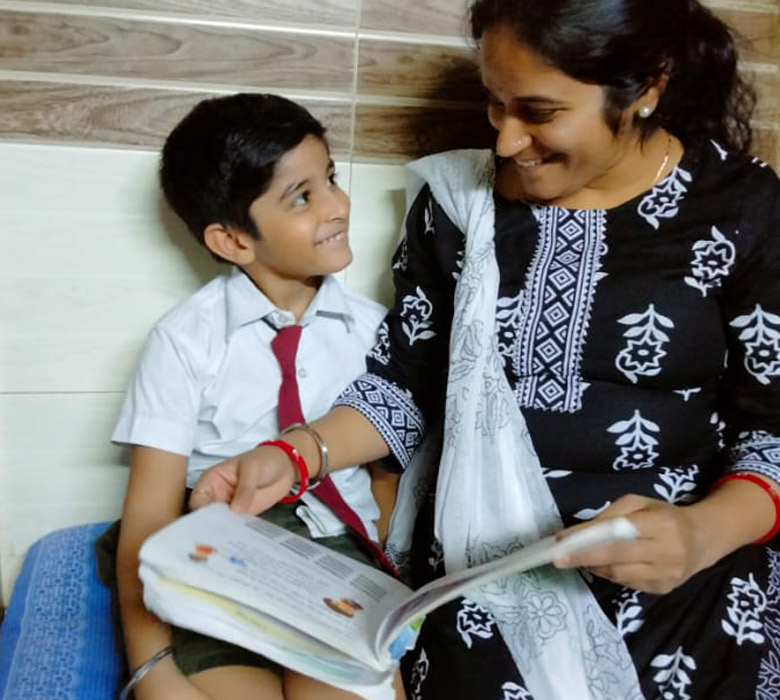 Life is slowly getting back to earlier routines, but with changes. Recently a group of artisans came together to reflect upon all the changes that came about the last couple of years. There were many things that were sad or difficult, but they were focusing on the positive aspects. Everyone had some new habit, realization, or skill which had enriched her life.
SARA KAMBLE
Tailor artisan, WARE Collective
"I now know how to write 1 to 100 on my own. This past year was a self-learning year in our home for both me and my young daughter. My daughter had online classes and I had to help her with all her lessons because I did not want her to go out to tutoring classes. This gave me the incentive to learn to read and write. Earlier when I used to go to the bank I had to ask my husband to help fill the bank slips as I could not write the spellings of big numbers. Now you can tell me any digit and I can write it out!"
MALTI GUPTA
Embroidery artisan, WARE Collective
"Regular yoga is the best positive change in my life this year. As I live far from the workshop I could not attend the group sessions there earlier. But when it became virtual due to the pandemic I joined and attended regularly. I had pain in my shoulder for many years and even though a doctor gave me medicine it was not helping. But with yoga my pain has been relieved. Now apart from doing the weekly yoga class with everyone, I practice yoga, especially hand exercises, every day at home. Doing yoga is so much better than taking medicines."
RASHMI SHARMA
Embroidery artisan and QC coordinator, Nirmaan Collective
"One new feature in my life is stories. The Library Project was introduced recently for the children under the Armaan Club Program. My son is in std 1 and he does not want to read on his own, but Didi (Social Worker) encouraged us to read to our children to help them develop the habit. So I started reading to my son and now I am enjoying it so much that I have fixed a time every night to read out loud to him. We did not have access to such good books growing up, I am really enjoying reading."
SHABNAM SHAIKH
Embroidery artisan, Ashiyana Co-operative
"I am a leader for the Armaan Club so I had to learn how to attend sessions and coordinate everything virtually for the students of our groups. I did not think I could do it and said so to Didi (social worker). In the beginning I found it very confusing to organize the online group discussions. I made mistakes, such as how and when to mute. But with time I learned it and now I am totally comfortable with all of it. This has helped me in my family life, too. Earlier I didn't understand what my children were doing in their online classes. They could skip parts and tell me things were cancelled and I would not know any better. Now I can check and make sure they have received the link for their virtual classes and that they are attending all lessons."
RUTUJA ACHREKAR
Embroidery artisan, Nirmaan Collective
"One positive change in my life is managing my time. Earlier when I was not working I would just do the household work and take care of the children and the day would just go by. But now I am able to do everything at home and also finish my embroidery pieces on time. Recently I also joined the quality control team. Initially it seemed all too much but now I have a timetable and there is so much I can do in a single day."
CUSTOMER REVIEWS
So Interesting!
Jun 23, 2022
By Kathryn Oliver-Garnett
So interesting to hear how and what these lovely people think and do besides make beautiful clothing! It's wonderful to get to know some of them a little bit deeper and hear what's important to them. Your various emails and messages about what else is going on in their lives are a joy to read! They are all a strong example, even though far away and living in different cultures, of how very similar we really are.
People have similarities all over the world, regardless of their culture and background
Mar 24, 2022
By Susan
Reading what these talented women have written just goes to prove that we want the same things for our futures and for our children's futures. If only each person in the world would realize that, we are all the same!