Aloo Tikki
March 17, 2020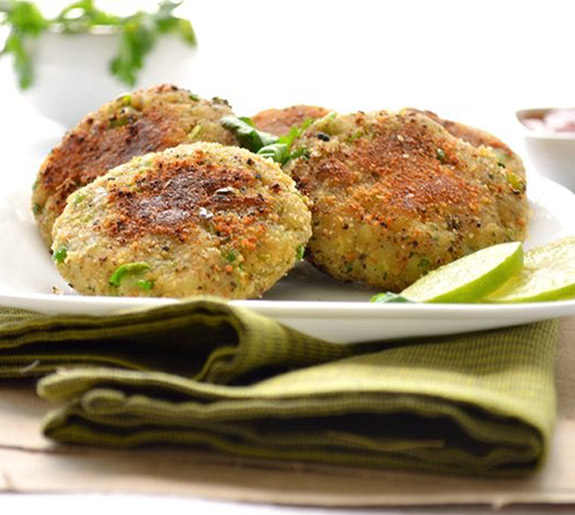 One of the things that Indians can't do without is "chaat." Chaat is usually a sweet, spicy and sour snack. There are many kinds of chaat- pani puri, papri chaat, aloo chaat, etc. Aloo tikki with imli ki chutney (or tamarind chutney) is a north Indian favorite when it comes to chaat. Here's a simple recipe that you can be proud to serve in your home!
Aloo Tikki Ingredients:

1 cup boiled potatoes

½ cup boiled green peas

1 Tbsp chopped cilantro

1 Tbsp jeera (cumin seeds)

½ tsp. red chili powder

1 tsp. lemon juice

salt to taste

oil for cooking

Method:

Mash the potatoes and green peas then mix all of the ingredients expect the jeera (cumin seeds) in a bowl.

Divide the mixture into 8 equal balls. Flatten the balls with your palms to make flat tikkis.
Heat some oil on a non-stick pan on medium flame. Add the cumin seeds to the hot oil. Place each tikki on the pan and cook till both sides are golden brown.

Place the tikkis on absorbent paper and serve hot with tamarind chutney.

Tamarind Chutney Ingredients:

1 cup tamarind paste
2 cups water
6 Tbsp jaggery powder (or you can use 6 Tbsp dark brown sugar +2 tsp. molasses)
1 tsp roasted jeera powder (cumin)
½ tsp. black salt / regular salt
1 tsp. dried ginger powder
1 tsp. garam masala (optional)
1 ½ tsp red chili powder

Method:

Add the 2 cups of water to the 1 cup of tamarind paste and bring it to a boil.

Then add in the roasted jeera powder (cumin), black salt/salt, dry ginger powder, red chili powder,garam masala and jaggery/sugar. Boil for about 10 minutes.

Serve the tikkis hot. Pour about 1 tbsp chutney on each tikki and add some chopped onions and cilantro as garnish.