Cauliflower Vegetable Dish
October 22, 2020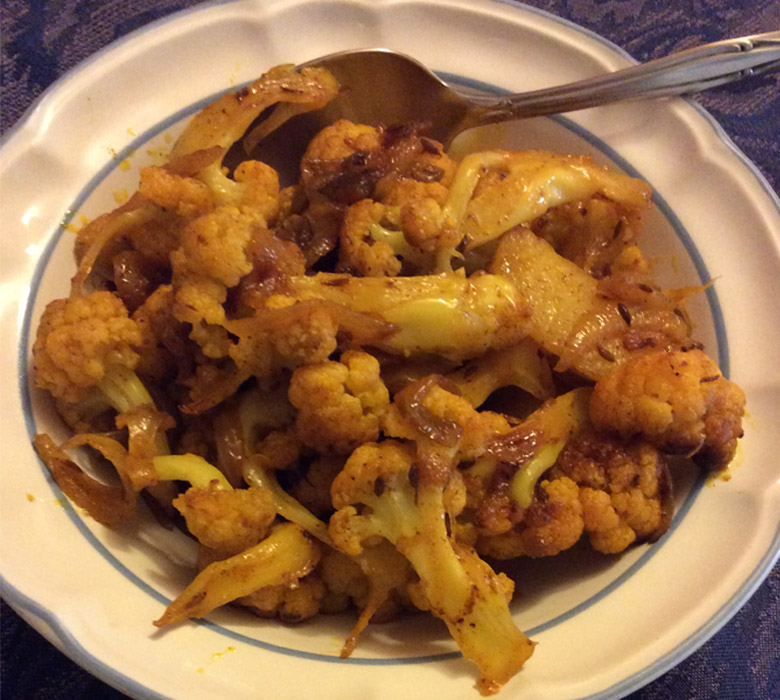 Ingredients:

1 lb. cauliflower

2 tsp vegetable oil (not olive oil)

½ tsp whole cumin seeds

1 medium size onion, chopped into medium pieces

1 medium size potato, chopped into medium pieces

½ tsp turmeric powder

½ tsp cayenne or other hot red chile powder

Salt to taste (plus more for salt water soak)

Chopped cilantro for garnish

Cooking:

Cut cauliflower into bite-sized pieces. Soak them in salted water for 10 to 15 minutes. Heat oil in frying pan over medium heat. Add the cumin seeds and fry, stirring, until fragrant (1-2 minutes). Immediately add the chopped onion and fry, stirring, until golden brown. Drain the cauliflower and add it and the chopped potato to the pan. Cover the pan with a lid and let it cook on low heat for about 5 minutes. Add turmeric powder, cayenne, and salt to taste. Mix well and let it cook until the vegetables are done, about 10 more minutes. Serve garnished with chopped fresh cilantro leaves.