Chindis: Redefining Fashion with Sustainable Creativity
August 23rd, 2023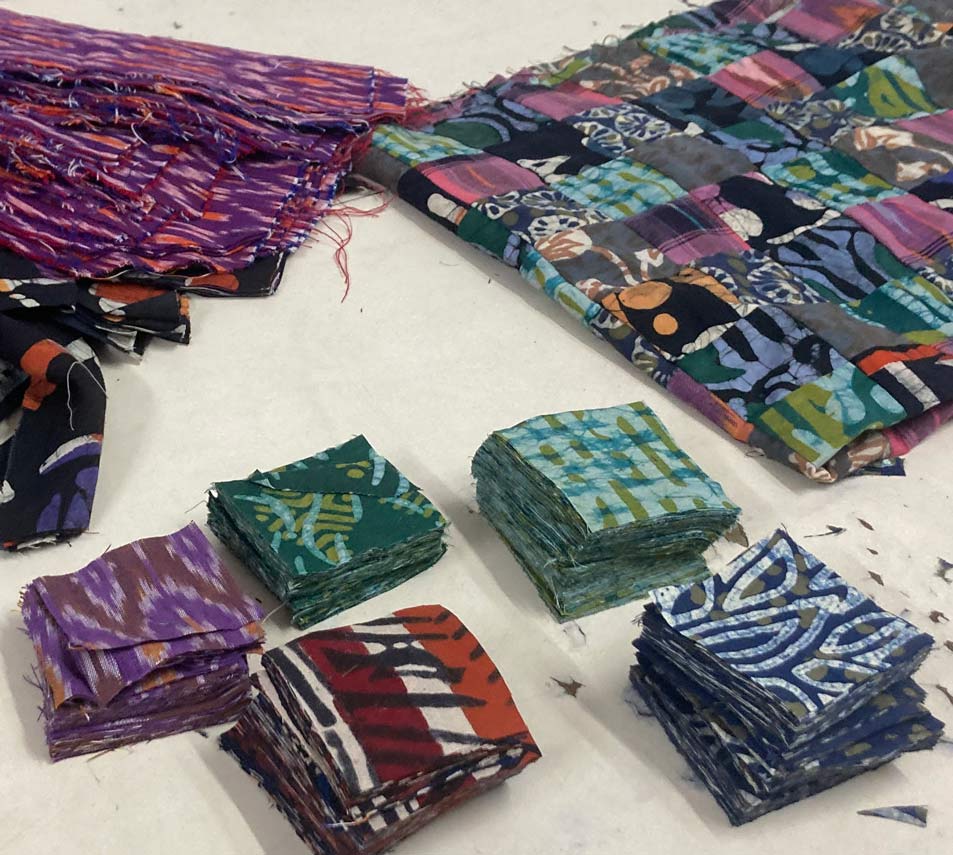 Waste fabric scraps are inevitable in textile and garment production. When we cut lengths of fabric for a garment, there are always leftover pieces of various sizes, shapes, colors and patterns. In India there is a term for such scraps: Chindi.

It is estimated that between 10% and 15% of the fabric used in the textile industry's production is wasted, likely ending up in landfills. Exacerbating the environmental cost, many fast fashion textiles are not biodegradable. Our concern for the environment means that we do business differently. Cutting out from our patterns is done in smaller batches with more flexibility to control waste. We use custom hand-dyed fabrics which can be produced in lengths that maximize usable surface. Our fabrics are cotton, organic cotton and linen which are biodegradable.
(Sorting and bundling chindis)
Our catalog features a wide range of colors and prints with light, bright and darker backgrounds. We are challenged to take this chaos of many different (and beautiful) fabrics and turn it into Chindi embellishments that are consistent over all the pieces in a style collection. Designing Chindi patchwork from this riot of colors and different sizes takes immense creativity and careful organization. Over the years we have developed our own system.
(Cutting and color sorting chindis)
All of the Chindis from production are first sorted into light and dark prints, color families, and general size. Even combining different pieces from the same color family, however, can end up looking messy. It can also be hard to predict the exact quantity of Chindis that will be generated in order to plan the designs. To maintain consistency, the patchwork is overdyed. This makes it easier to coordinate Chindi and makes for a harmonious appearance.
(Artisan sewing chindis into patchwork)
Yet another virtue of Chindis is that they provide an opportunity to train new artisans and enhance artisans' sewing skills. Some of the trainees have never touched a sewing machine before, and those who are familiar with the basics have not used industrial machines. We guide them through the process by working with Chindis. It is a great way for them to learn to handle the machines and sew in straight lines. With each little Chindi sample, their expertise and confidence grow.
(Top Left: chindi patchwork & overdyed patchwork, Right Side: Cutting overdyed patchwork into panels, Bottom Left: Artisan sewing chindi patchwork panels into a garment)
Every Chindi-adorned piece is unique and the result of innovative problem-solving, skill, hard work, and an intense commitment to reduce waste. We intentionally design garments that incorporate patchwork and decorations made from these scraps. This is not only environmentally conscious but also showcases the versatility and unique beauty that can be achieved through innovative design techniques.

So, when you wear our Chindi creations, you are showing off an example of sustainable innovation which reflects our commitment to reducing waste. Thanks for being a part of the solution!