Gobi Ki Sabzi (Cauliflower in Green Paste)
January 29, 2021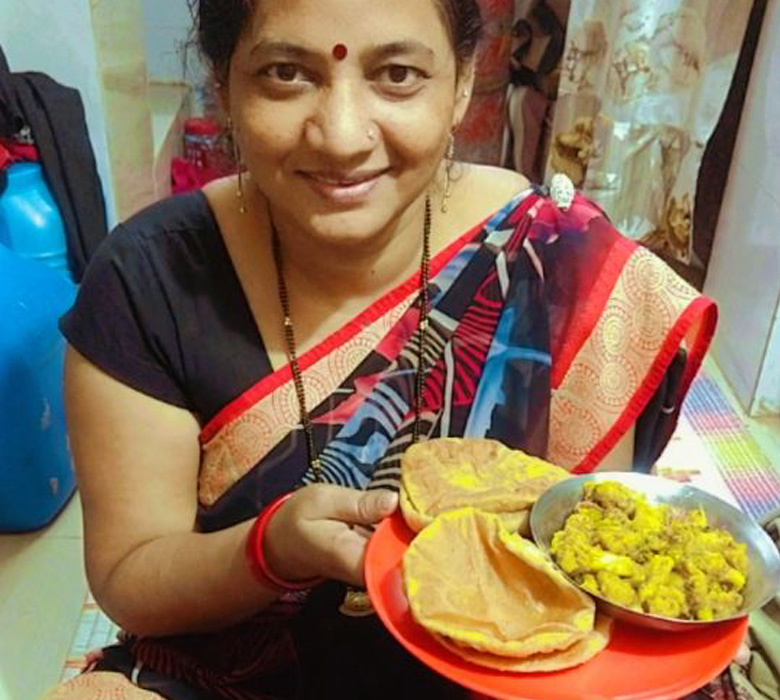 Semma Verma an embroidery artisan at Sahara Collective shares a family favorite winter recipe.
Green Paste Ingredients:

1 cup chopped cilantro and a little more for garnish

4 - 5 cloves garlic

1" fresh ginger

2 green chilies

Remaining Gobi Ki Sabzi Ingredients:

2 tsp peanut or vegetable oil

2 bay leaves

3 - 4 whole black peppercorns

½ tsp coriander powder

½ tsp cumin seeds

1 onion, finely chopped

½ tsp ground turmeric

1 tsp cayenne or hot red chili powder

Salt to taste

½ cup water

1 tomato, finely chopped

1 tsp garam masala (or mixture of cinnamon, cloves, black pepper and ground cardamom)

1 medium sized cauliflower, (about 500 grams), chopped into 1" pieces

Method:

Prepare green paste: mix 1 cup chopped cilantro, garlic, ginger, green chilies and grind into a fine paste either by hand or in a food processor.

Heat around 2 tsp neutral oil in a pan over moderate heat. When the oil is hot, add the bay leaves, followed by the black peppercorns. As soon as they begin to sputter and pop add the cumin seeds and chopped onion then stir for 3-5 minutes. As the onions become golden brown add the green paste (there should be about 3 Tablespoons). Mix well and cook for 3-4 minutes before adding the chopped cauliflower.

Once you have added the cauliflower add the turmeric, cayenne powder, salt, and ½ cup water mix well. Cover pot with a lid and let cook for about 10 minutes. Add coriander powder, chopped tomato and garam masala. Cover again and cook for another 5 minutes, on medium heat. Finally, sprinkle with chopped cilantro for garnish and serve.