Indo-Burmese Fish Curry
May 05, 2020 | By Pushpika Freitas, MarketPlace President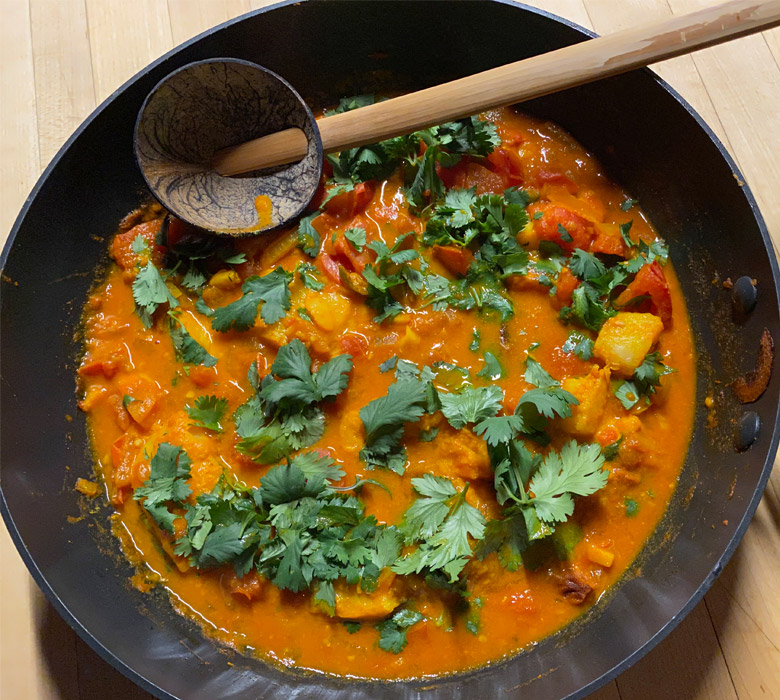 This recipe started off being Burmese that I used when hosting my book group meeting. We were discussing the book, The Art of Hearing Heartbeats by Jan Philipp Sendkar. I am noted for not particularly following a recipe: partly because I am not good at following rules and partly because I invariably forget to purchase all ingredients. Hence I used ingredients I had and it turned out to be partly Indian. And it was a great hit!!
Ingredients:

500g (about 1 lb) Cod fillet, cut into big 1 ½ - 2 inch chunks

1 tsp. ground turmeric, divided

¾ tsp. + ⅛ tsp. salt

6 cloves garlic, chopped

2inch piece fresh ginger root, chopped

2 - 3 fresh green chilies, either Thai or Indian (to taste)

¾ cup shallots, chopped

Neutral cooking oil (like peanut or canola)

1 ½ tsp. paprika

4 cups diced roma tomatoes (about 8 tomatoes)

1 Tbsp. Asian fish sauce

2 Tbsp. tamarind or lemon juice

1 tsp. of sugar, or as needed

Chopped cilantro for garnish

Cooking:

Toss fish with ½ tsp. turmeric and ¾ tsp. salt. Let it sit while you prepare the rest of the ingredients.

Make the herb paste: If using a food processor, blend garlic, ginger and chilies until it you come up with a rough paste. Add the shallots and pulse just to break down the shallots; you should end up with a rough herb mix. If using a mortar and pestle, first pound the chilies. Add garlic and ginger, and pound into a rough paste. Add shallots and just crush them to soften them and break apart all the layers. In a heavy-bottomed pot, add enough oil to cover the bottom and heat over medium heat. Add the herb mix. Stir in ⅛ tsp. salt and sauté for a few minutes until the shallots are soft and translucent. Mash the shallots to incorporate them well. Let the mixture fry in the oil for a minute.

Add paprika and the other ½ tsp turmeric and sauté for 15 seconds.

Add the tomatoes, fish sauce, tamarind/lemon juice, and stir to mix with the herbs. Cover and let it simmer over low heat for about 15 minutes or until the tomatoes break down into a soupy curry sauce.

Taste the sauce for balance of flavors, and if you feel it needs a little sweetness to balance, add sugar to taste. (Most standard supermarket tomatoes can use a little extra sweetness. If you are lucky enough to have really ripe in-season tomatoes, you may not need to add any sugar.)

Bring the sauce to a full boil if it isn't already, and give it a stir. Add the fish and spoon the sauce over the top so that the pieces are completely submerged. Cover the pan and let the fish simmer on medium-low heat for 3 minutes, then turn off the heat and let it sit in the residual heat for another 7 minutes or until the fish is done.

After 7 minutes, check to make sure the fish is cooked. Then taste and adjust seasoning one last time. Garnish with lots of chopped cilantro. Serve with rice. Enjoy!